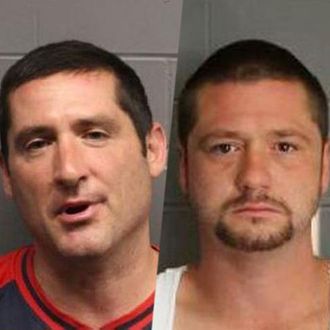 Photo: Suffolk County DA's Office
Boston police found a homeless man shaking and soaked with urine outside a T stop in Dorchester early Wednesday morning. He had allegedly been beaten up by two brothers from South Boston with lengthy criminal records — one had previously been convicted of a hate crime for throwing a cup at a Moroccan man working at a Dunkin Donuts — on their way home from a Red Sox game. The victim, who has a broken nose and bruises on his torso and his head from being hit with a metal pole, was allegedly targeted because he is Hispanic. 
When explaining the crime to police, 38-year-old Scott Leader allegedly said, "Donald Trump was right, all these illegals need to be deported." 
The Boston Globe reached out to the presidential candidate for comment. Trump said it "would be a shame" if he was in fact the inspiration for the alleged attack. "I will say that people who are following me are very passionate. They love this country and they want this country to be great again. They are passionate."
During his campaign announcement speech, Trump — currently leading the Republican primary polls, said, "When Mexico sends its people, they're not sending their best … They're not sending you. They're sending people that have lots of problems, and they're bringing those problems with us. They're bringing drugs. They're bringing crime. They're rapists. And some, I assume, are good people." 
The Washington Post published a story on how Mexicans view the Donald Trump presidential campaign earlier this week. Newspaper columnist Guadalupe Loaeza said, "We don't know if we should laugh or if we should cry. We think he's really a nightmare."
No one has confirmed that the homeless man was an undocumented immigrant. 
Boston officials were more firm in their anger over the crime. Mayor Marty Walsh said Scott and Steve Leader "should be ashamed of themselves," while the police commissioner, who is from South Boston, said the brothers gave their home "a bad name."
Besides the charges for the crime, Steve Leader was also charged with malicious destruction of property after allegedly punching, kicking, and urinating on his cell door. The brothers, who pled not guilty yesterday, allegedly "continued to urinate, bang on doors, and make anti-immigration statements in their cell after having been arrested," according to Boston.com.