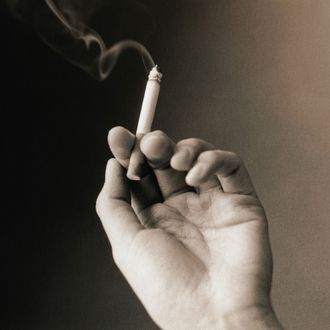 Photo: 2/Mel Curtis/Ocean/Corbis
Encouraging news for those who are still hoping that Mayor de Blasio will return New York to the bad old days: Cigarettes are cool again. "In 2010, the city's smoking rate fell to 14 percent, a 15-year low and 5.3 percentage points below the U.S. rate," says a new report from New York's Independent Budget Office. "After 2010, smoking rates in the city began to rise, reaching 16.1 percent in 2013 (the latest data available), just 1.7 percentage points below the U.S. rate." (Meanwhile, people are still vaping up a sweet, misty storm, despite official attempts to make e-cigarettes as inconvenient as their low-tech counterparts.) New Yorkers' apparent will to smoke is pretty impressive (or depressing), considering that — at an average price of $14.50 a pack — this city's cigarettes are the most expensive in the country.
The IBO notes that, "The increase in the city's smoking rate occurred in tandem with declines in spending on tobacco control programs." City spending on anti-smoking campaigns in 2011–2014 averaged about a third less than during the 2007–2010 peak-spending period." The "tobacco control" budget for 2015 is $5 million, which is half of what was allocated last year, so it seems likely that smoking will continue to increase in the immediate future. But you can take matters into your own hands by watching — or forcing your smoker friends to watch — this particularly horrifying 2007 anti-smoking spot.