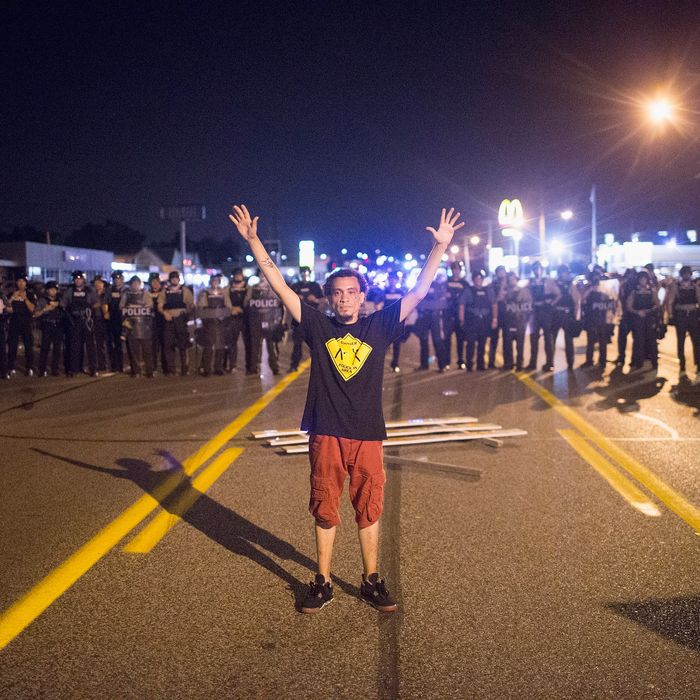 A demonstrator confronts police during a protest along West Florrisant Street on August 10, 2015 in Ferguson, Missouri.
Photo: Scott Olson/Getty Images
Protesters took to the street in Ferguson, Missouri, on Monday for the fourth night of demonstrations marking the first anniversary of the shooting of Michael Brown. St. Louis County declared a state of emergency, allowing county police to take over law enforcement. "The recent acts of violence will not be tolerated in a community that has worked so tirelessly over the last year to rebuild and become stronger," said St. Louis County Executive Steve Stenger in reference to Sunday night's unrest, during which 18-year-old Tyrone Harris Jr. was shot by a group of police officers.
There was no gunfire on Monday night, but police still clashed with protesters. Hundreds gathered to march on West Florissant Street, and when some people veered into a traffic lane around 10 p.m., police moved to clear the street. Officers in riot gear directed protesters to clear the street, then forced them to move if they didn't comply. According to the Associated Press, one officer used pepper spray on the crowd, hitting one of their video journalists. Some demonstrators responded by throwing water bottles and other objects at police, and nine people were arrested. "They're not going to take the street tonight," said St. Louis County Police Chief Jon Belmar. "That's not going to happen."
Several more people were arrested around midnight when about 50 protesters marched down West Florissant, defying police orders. Police formed a line across the road, and some pelted them with water bottles, while other demonstrators urged people to remain peaceful. Early on Tuesday morning, the protest had mostly died down, and more than a dozen people were in custody.
Ferguson resident and veteran Hershel Myers Jr., 46, told the AP police were unnecessarily aggressive. "It's wrong for me to have to go overseas and fight with Army across my chest, but we can't fight on our own street where I live," he said.
County Executive Stenger told the St. Louis Post-Dispatch that he has not ruled out imposing a curfew on Ferguson.
Earlier on Monday, the police arrested 57 peaceful protesters, who had gathered on the steps of St. Louis's federal courthouse, for trespassing. Among those taken into custody were Cornel West and prominent Black Lives Matter activists DeRay McKesson and Johnetta Elzie, who were recently profiled by the The New York Times Magazine:
Meanwhile, the Washington Post's Wesley Lowery and the Huffington Post's Ryan Reilly each received a court summons on Monday charging them with trespassing on private property and interfering with a police officer over an altercation with police during the protests one year ago. Both men say they were arrested violently after failing to leave a McDonald's fast enough.
"With the lessons seemingly learned on optics and rhetoric and handling this type of unrest, I couldn't imagine that, a year later, St. Louis County would decide that charging a Washington Post reporter for doing his job would seem like a wise thing to do," Lowery told CNN.
Prosecutors also announced on Monday that Harris, the 18-year-old critically wounded in his encounter with the cops on Sunday night, has been charged with ten felonies, including four for assaulting a police officer. The New York Times reports, "The authorities said the shooting was not related to protests."
Harris's father insisted that his son is innocent, though he's "made some mistakes" in the past. He was charged with auto theft, theft of a firearm, and resisting arrest in November, but Tyrone Harris Sr. told the Washington Post he's been going to church regularly and taking school more seriously. "He was pulling it together. And then, this happened," he said.
This post has been updated throughout.