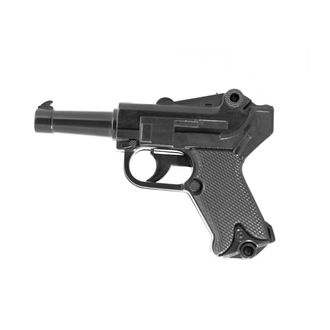 You won't be able to buy this in New York anymore.
Photo: Nico Simon/Getty Images
Between 2012 and 2014, more than 6,400 illegal toy guns were sold in New York. The retailers that sold those guns — including Walmart, Amazon, and Sears — reached a settlement with the New York attorney general's office that involves more than $300,000 in penalties and a promise to stop selling realistic-looking toy guns.
Federal law stipulates that toy guns must have an orange piece of plastic at the tip that would face those staring down its barrel; New York has even stricter laws, which prohibit blue, black, or silver guns. In the city, guns have to be neon or clear, instantly identifiable as being of the water-gun variety. These retailers agreed to only sell guns that comply with New York City's standards throughout the state in brick-and-mortar stores, but especially online, where most of the violations occurred. During the holiday season last year, the attorney general's office sent cease-and-desist letters to these retailers. "When toy guns are mistaken for real guns, there can be tragic consequences," New York State Attorney General Eric Schneiderman said at the time. "Retailers cannot put children and law enforcement at risk by selling toy guns that are virtually indistinguishable from the real thing."
There have been at least eight deaths involving toy-gun-prompted shootings in New York since 1994, according to the attorney general's office, and at least 63 shootings total.