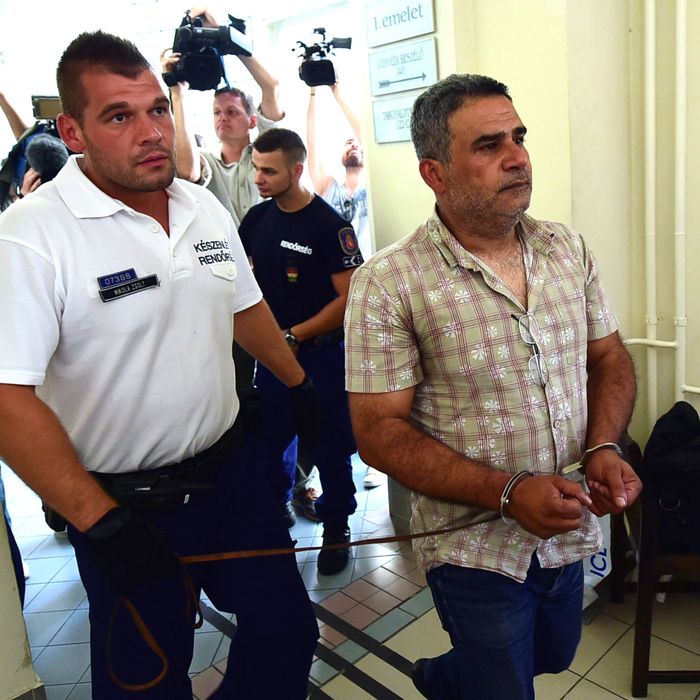 One of four suspects in the deaths of 71 migrants found in an abandoned truck in Austria is led by a Hungarian police official into the Kecskemet courtroom.
Photo: Attila Kisbenedek/AFP/Getty Images
The drivers of a truck that was found to contain 71 asphyxiated migrants in Austria were but one tiny part of a vast international smuggling syndicate, the director of Europol announced today. The Washington Post reports that four low-level operatives in that network have been arrested in Hungary following the gruesome discovery on Thursday, but that leaders of the syndicate remain out of reach, despite multiple investigations by European law enforcement agencies into the network, which, according to the Post, "epitomizes the rapid expansion and increasing sophistication of human smuggling networks across the continent." Said Europol director Rob Wainwright of the truck deaths, "We were able to make intelligence connections with many other cases that we're currently working on across Europe."
As of this weekend, at least 2,600 migrants have died this year attempting to reach Europe from troubled regions of the Middle East, Africa, and Southeast Asia, and European authorities say that the smuggling operations, flush with an unending torrent of desperate migrants, are getting savvier, more innovative (including social media efforts), and, as demonstrated this week, increasingly dangerous.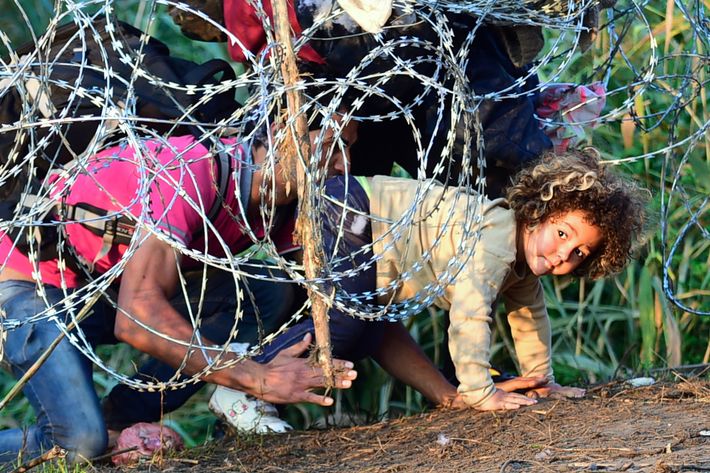 The majority of this year's migrant deaths have occurred while trying to cross the Mediterranean, but as the truck deaths show, the more overland route is gaining popularity as an alternative, via which migrants travel from Turkey to Greece, then up through the Balkans to Hungary. The Wall Street Journal has more:
While migrants reaching Italy outnumbered those reaching Greece four to one last year, the pattern has now changed dramatically, with entries into Greece overtaking Italy for the first time in at least five years. This shift has been led by Syrians, who are no longer granted the Algerian visas that they used to first travel to that country, then on to Libya to attempt the sea crossing to Europe.

According to the United Nations High Commissioner for Refugees, about 200,000 people arrived in Greece so far this year, while Italy received about just over half this number. It estimates 3,000 people a day are currently being moved through the Balkans.
And regarding one day's thousands along that route at least, three dehydrated and critically ill children were among 26 migrants rescued from a cramped minivan in Austria yesterday. According to the BBC, the driver of the minivan, a Romanian, was arrested after leading police on a chase once they tried to stop the vehicle. The migrants in the van had reportedly come from Syria, Afghanistan, and Bangladesh. The children, who are now being treated in an Austrian hospital, are expected to recover.