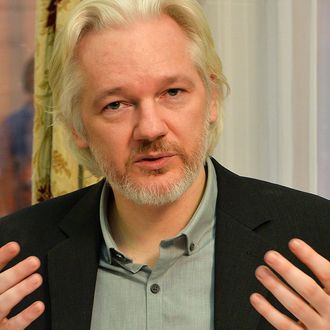 Julian Assange.
Photo: John Stillwell/AFP/Getty Images
After three years holed up in the Ecuadorean embassy in London, Julian Assange will soon be slightly closer to being a free man. The BBC reports that on Thursday Swedish prosecutors will drop their investigation into sexual-molestation and unlawful-coercion allegations against the WikiLeaks founder because the statute of limitations has run out. Another allegation of sexual molestation will expire on August 18.
Under Swedish law a suspect cannot be charged until they have been interviewed by investigators. Swedish prosecutors offered to come to the embassy to talk with Assange in March, but Sweden and Ecuador have been squabbling over the circumstances in which the interview can take place. Assange has denied all of the allegations and said he sought asylum because he believes Sweden will extradite him to the United States. There has been no extradition request, and Swedish officials said his fears are "hypothetical."
Assange is still facing a rape allegation and could be charged until August 2020. If convicted, Assange could face up to four years in prison.