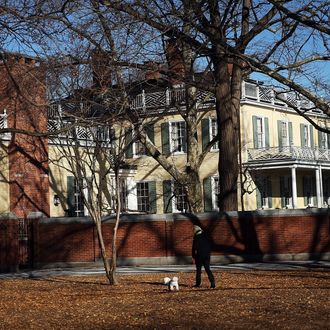 Gracie Mansion.
Photo: Spencer Platt/2013 Getty Images
A 19-year-old man staying in an apartment across the street from Gracie Mansion has reportedly confessed to shooting an NYPD officer guarding Mayor de Blasio with a pellet from a BB gun. Officer Kelly Briant was exiting an unmarked police vehicle on Sunday night when she was hit in the back. She and her partner looked up and saw a silhouette standing in an open window of the luxury apartment building across the street. Briant was not seriously injured, and the two officers went to the apartment to investigate. According to the New York Times, they were directed to Apartment 10C, where Michael Verbitsky answered the door and told them they would need a search warrant. Then a doorman showed the officers live surveillance footage of Verbitsky and a young woman fleeing the building through a back entrance. They were detained by officers outside the building.
Verbitsky reportedly told police that he had been playing with a Crosman 760 Pumpmaster air rifle and was surprised that it went off. "It was just an accidental discharge of a BB gun by a 19-year-old," said his attorney, Howard Levine. The gun was found hidden above an air duct in the ornate apartment, where the Culinary Institute of America student is staying through the end of the month.
Levin said his client denies any involvement in other recent pellet-gun shootings in the area, which resulted in several broken windows. A Con Edison employee was also hit by something that left a welt on his shoulder while working in the area last week, but he only reported it after hearing about the Gracie Mansion incident.
Verbitsky was arraigned Monday night on eight charges, including second-degree assault, reckless endangerment, criminal possession of a weapon, and two counts of criminal mischief. He posted $10,000 bail but has yet to enter a plea. Verbitsky is set to return to court on Friday.