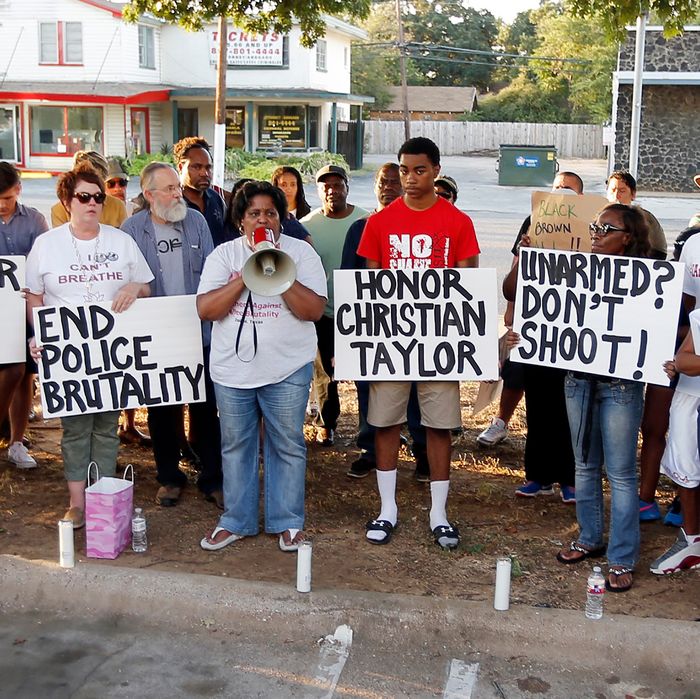 Protesters rally outside the Arlington Police Station to end police brutality on Monday, August 10, 2015.
Photo: Brandon Wade/Fort Worth Star-Telegram/TNS via Getty Images
Over the weekend, Chief Will Johnson of the Arlington, Texas, police department promised a "transparent, thorough and fair investigation" into the killing of 19-year-old Christian Taylor by 49-year-old rookie cop Brad Miller. He warned that this might be "lengthy and at times frustratingly slow," but one aspect of the case was actually shockingly quick. On Tuesday Johnson announced that Miller has been fired for displaying "inappropriate judgment" during the incident.
Around 1 a.m Friday, Arlington police responded to reports of a suspected burglary at the Classic Buick GMC dealership. Surveillance video shows Taylor jumping on a car, kicking in the windshield, and climbing inside. Then he got in his own vehicle and drove through a gate and into the showroom windows.
On Saturday, Chief Johnson said Officer Miller and his training officer struggled with Taylor before Officer Miller opened fire. But, on Tuesday, Chief Johnson said Officer Miller pursued Taylor into the showroom without telling his supervisor or the four other officers on the scene, and he had no plan for an arrest. Taylor did not comply when Officer Miller ordered him to get down to the ground, and began "actively advancing toward Officer Miller," according to Johnson. As the training officer fired his Taser, Officer Miller shot Taylor four times.
Chief Johnson said decisions Officer Miller made on the scene "created an environment of cascading consequences and an unrecoverable outcome." He said that "based on a preponderance of evidence available to me and facts revealed by the investigative team," he has decided to "terminate Officer Miller's employment with the Arlington Police Department for exercising poor judgment." Officer Miller, who joined the police department in September, cannot appeal the decision because he is still on probation.
Chief Johnson noted that none of the officers made physical contact with Taylor, and the bulge in the suspect's pocket was just his wallet and cell phone. "It is reasonable that officers were concerned that a weapon may be present," he said. "This further underscores the questionable nature of Officer Miller's decision of entering the building alone and without an arrest plan." The supervising officer will not be disciplined.
Police will complete their criminal investigation, and the district attorney will decide whether to present the case against Officer Miller to a grand jury. Chief Johnson asked the FBI to review its investigation, but the Dallas office said it has "full confidence in the ability of the Arlington Police Department and Tarrant County district attorney's office to conduct a thorough investigation of this matter." According to the Fort Worth Star-Telegram, Arlington investigators are still providing information to the FBI, and the agency will get involved if it determines a civil-rights violation has occurred.
Taylor's death was protested in Arlington and mentioned during Black Lives Matter demonstrations in Ferguson, Missouri, this weekend. Dominique Alexander of the Next Generation Action Network has requested that the Justice Department get involved in the case, and about three dozen people gathered for a protest outside Arlington police headquarters on Tuesday night. According to the Dallas Morning News, many said they're happy Officer Miller was fired, but they want to make sure he's charged as well.
Adrian Taylor Sr., the victim's father, told Reuters, "There are no winners in this situation," adding, "No matter what decision is made, it doesn't bring my son back."