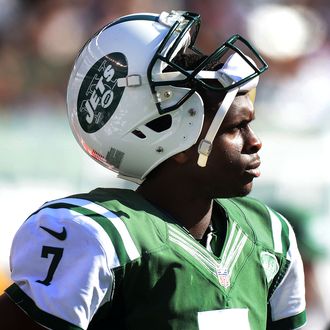 Geno Smith.
Photo: Ron Antonelli/Getty Images
As you've probably read on the front-pages of the local tabloids, Jets quarterback Geno Smith was punched in the jaw yesterday by since-released teammate Ikemefuna Enemkpali, reportedly because Smith wouldn't reimburse Enemkpali for a plane ticket and limo fees after Smith couldn't attend a charity event of Enemkpali's. That dispute was reportedly over just $600 — pretty penny ante for a couple of professional athletes. But the injury considerably raised the stakes, and not just for the Jets. It produced only a broken jaw, but, given Smith's age and contract situation, the sucker punch could potentially derail his entire career, losing him millions in salary. It's not an unrealistic scenario: After two spotty seasons, this year was Smith's chance to prove he deserves to be an NFL starter. Considering back up Ryan Fitzpatrick isn't much of a downgrade, it's quite possible Fitzpatrick could keep the starting job if he performs well, meaning Smith would miss the chance to show he was worth a real payday as he headed into free agency. 
So, just how much cash would that cost Smith? Of course, we're speculating wildly, and a good chunk of Smith's current contract is guaranteed (some $3 million of the $5.02 total value), so, whatever happens, Smith'll get much of the money from the deal he signed prior to his rookie season. But his future earnings could really suffer, as there can be a huge difference between the contracts given to even a mid-tier starter and those handed out to serviceable back ups.
In thinking about how much it might affect Smith, it helps to put his career so far into context. He started all 16 games as a rookie and 14 games last season, and in 2014, his Total Quarterback Rating (a single number devised by ESPN to evaluate quarterbacks) put him 25th in the league among qualified QBs. Compared to other recent quarterbacks who started as rookies, his numbers through two seasons don't stack up very well, but even many of the players with comparable numbers who remained starters went on to sign big deals when they became free agents.
So let's say Smith stayed healthy and proved this year to be a decent, if not spectacular, starting quarterback. The average per-year salary of the 16th through 25th highest-paid quarterbacks is $10.9 million, and if Smith progressed a bit, it wouldn't be unreasonable for him to command a salary in that range when his contract expires (as it's set to do after next season). Let's also assume his first free-agent contract was for six years — not an outrageous length for an NFL starter — and that he plays the entire thing out. (To give an example: Andy Dalton, who's at the higher end of that middle tier, has a contract worth up to $115 million over six years.)  Over six years he could earn some $65.4 million. 
The going rate for a back-up quarterback, obviously, is far lower, and it can range dramatically based on experience and the likelihood of significant playing time. But a couple of current back ups have career arcs similar to the worst-case scenario for Smith, in which he begins his career as a starter but, unable to prove himself, is forced to accept a back-up role. Brandon Weeden, who started 15 games as a rookie for Cleveland in 2012 but just five the following year, signed a two-year deal with Dallas prior to last season for the league minimum, which was $570,000 in 2014. Christian Ponder, who started 26 games for Minnesota in his first two seasons, but just nine in 2013 and one in 2014, signed a one-year deal with Oakland this year worth $3.75 million, including salary and a signing bonus. Blaine Gabbert, formerly the starter in Jacksonville, re-signed this off-season with the 49ers for two years and $2 million.
Ponder is probably the best of that group, and he's also the highest paid. So let's assume, generously, that Smith gets similar money to Ponder: a $1.5 million signing bonus, plus a salary of $2.25 million for, say, three years (possibly over multiple contracts). Let's also assume he could hang on for three more years as a back up after that, much like former top pick David Carr did. Let's say, optimistically, that he'd make $2 million in each of those three years. That would put his total at around $14.25 million, or $51.15 million less than he'd make as a mid-tier starter in the first six years beyond his Jets contract. The exact numbers, of course, are subject to countless variables, but the potential impact of being relegated to a back-up job is very real. Some have even questioned whether Smith might sue Enemkpali.
We may never know exactly how much Enemkpali's punch impacts Smith's career. For all we know, he was destined to be a bust anyway, or perhaps he'll return without missing a beat. But in the short term, there's a very real chance he cost Smith a huge opportunity to prove himself, and the consequences of that missed chance could be devastating.