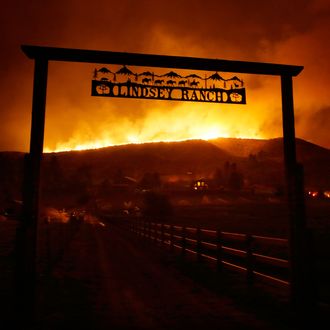 Photo: Ted S. Warren/Corbis
Nearly 30,000 firefighters have been tasked with defeating the 100 or so wildfires that have broken out on the West Coast in recent weeks; three from the U.S. Forest Service were killed on Wednesday night after a fire overtook their vehicle near Twisp, Washington, a town of around 900 people that had been told to evacuate because of the approaching blaze. Four more firefighters were injured, and are currently being treated.
Two other Forest Service firefighters have died fighting wildfires in the past month. 
"It was a hellstorm up here," the Okanogan County sheriff told KXLY-Spokane. Governor Jay Inslee released a statement on the dead. "They gave their lives to protect others," he said. "It was their calling, but the loss for their families is immense and I know the community will come together to support them. We will also keep the injured firefighters in our prayers." He also requested that the federal government declare a state of emergency, giving Washington additional resources to fight the still-spreading flames.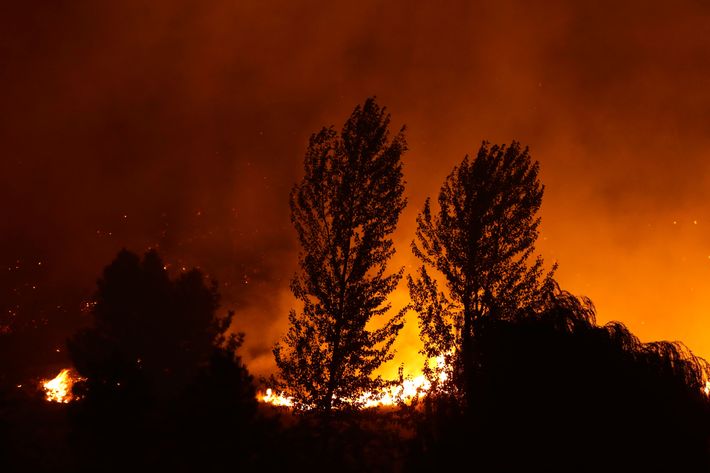 Fires have already burned more than 235,000 acres in the state, and thousands of households have had to evacuate and truck livestock to safety. More than 3,600 homes are still in danger of being scorched. The fires are visible from space.  
Angela Seydel, a spokesperson at the Okanogan Emergency Operations Center, told the Seattle Times that it was too soon to tell what the region would look like when the fires ended. "It's bad, that's the bottom line … We know some homes have been destroyed, but we don't know how many. The fires have been so volatile right now, we just can't get a count." Some of the fires have crossed the border, forcing Canadian firefighters to join the battle.
If you added up all the acres of land that have fallen victim to wildfire damage this year, it would be the size of Massachusetts, according to NBC News. For the first time in more than a decade, active duty military personnel have been called to fight wildfires; hundreds of troops have been dispatched to California. The costs for fighting these awful fires is high; the Forest Service has spent around $830 million on fighting wildfires this year. A new report from the University of California, Davis, shows that the drought in California could have an economic cost of around $2.7 billion.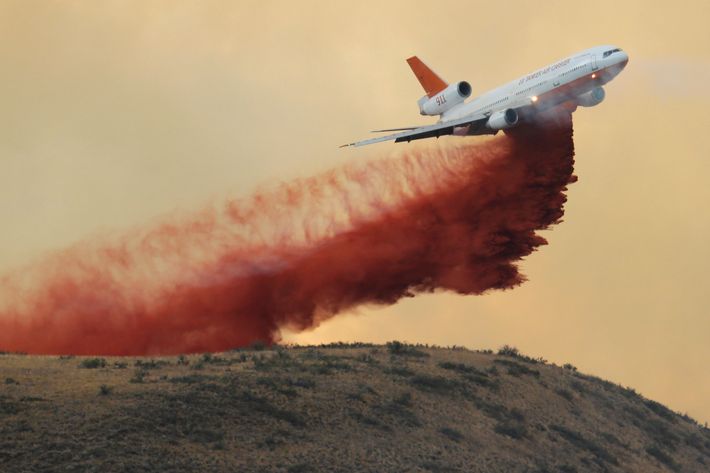 Sixteen wildfires are currently raging across California, eating away at thirsty trees. "These oaks become so starved for moisture," Bennett Milloy, spokesperson for the California Department of Forestry and Fire Protection, told the AP. "We heard them falling all night last night." The wafting smoke has caused air-quality advisory warnings in nearby Nevada. Reminders of the drought are left behind after the wildfires are put out, evaporated stream beds have been turned into open-air fish cemeteries, and the wells of around 2,000 families have gone dry. 
In early August, Governor Jerry Brown gave remarks on the wildfires and the never-ending drought that has exacerbated them; his backdrop was a hill eaten by fire and accompanied by the dense woodsy smell of smoke, according to the Los Angeles Times. "This is a real wake-up call," he said, adding later, "We have a real challenge in California. Unlike the East, where climate change seems to be adding more storms, here in California and the Southwest it's more dryness. He ended with a challenge to Republican presidential candidates, "California is burning. What the hell are you going to do about it?"
A new study published in Geophysical Research Letters argues that climate change has probably made California's record-breaking drought as much as 20 percent worse than it would have been in a situation where natural climate variability was only to blame. 
Park Williams, a bioclimatologist at Columbia University who was the study's lead author, told High Country News that "Global warming is not causing the drought to occur. Instead, it's amplifying a drought that would already be in place. Global warming is important and it's going to become increasingly important."