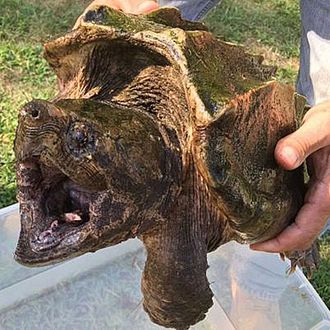 This guy.
Photo: Suffolk County SPCA
NBC New York reports that a father and son discovered yet another terrifying thing lurking in the waters of Long Island earlier this week: an alligator snapping turtle. What is an alligator snapping turtle? Well, as you can see, it's a large, Bowser-like reptile that, according to Suffolk County Society for the Prevention of Cruelty to Animals' Roy Gross, is capable of "[biting] off the toes or part of a foot of anyone who ventures too close."
It also doesn't belong anywhere near us. Gross explained that alligator snapping turtles are native to "the region spanning eastern Texas to the Florida Panhandle," which means that someone likely schlepped the thing all the way north only to dump it in the well-trafficked Smithtown, New York, stream where it was found. Please don't do that; Long Island has enough problems already.