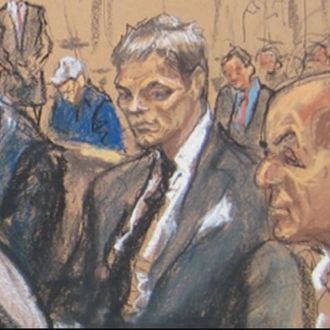 This picture has haunted Jane Rosenberg's dreams.
Photo: Jane Rosenberg
On Monday, New England Patriots quarterback Tom Brady will visit a New York City courtroom once again, as he and NFL commissioner Roger Goodell try to reach a settlement over Deflategate. 
Jane Rosenberg will be there too, and she's dreading it. The internet couldn't decide if the courtroom sketch artist's last interpretation of Brady — who Patriot's owner Robert Kraft once described as "physically very handsome, but as a human being he's more beautiful" — looked more like Michael Jackson in "Thriller," the guy in Munch's The Scream, Jesus after that elderly woman repainted a priceless fresco, or something that would terrify Kevin McAllister. 
The sketch became so infamous that it announced a presidential campaign. Rosenberg has been recognized as its creator while in line at Starbucks. 
"I've had sleepless nights and Tom Brady's been in my mind in the middle of the night. I get up worrying about it," Rosenberg told WBZ-TV in Boston. She promises to make Brady look appropriately gorgeous this time around — she already apologized "for not making him as good-looking as he is," earlier this month. Rosenberg, who doesn't watch football, has been training for today by drawing his face from photographs.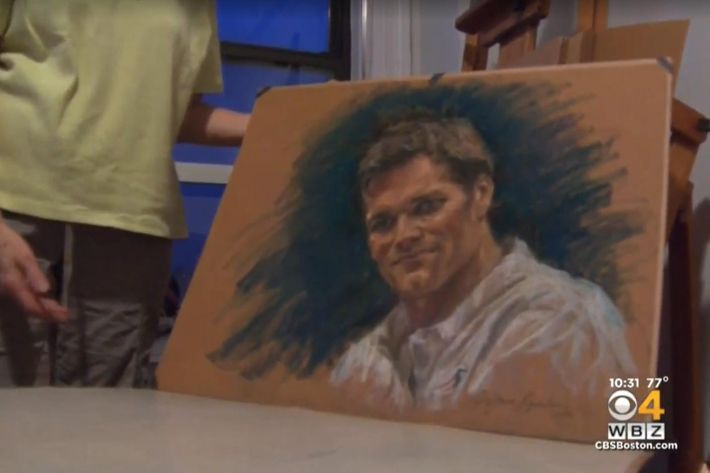 According to The New Yorker, this isn't the first time Rosenberg, who has been drawing courtroom scenes for 35 years, has had to change her style based on popular demand — "John Gotti asked her to eliminate his double chin in her sketches, a request she granted."
Sketchgazi has led to some career benefits and interest in her back catalog too, she told The New Yorker. "A museum in Boston asked to display the Brady sketch, while dozens of potential buyers have inquired about purchasing it. 'I want a million bucks,' Rosenberg said."
Most of all, she's ready for all the attention to disappear. "I hate it," she told PIX11. "I want it to go back to the way it used to be." Before that can happen, Rosenberg has to draw Brady. "I still might blow it," she added to the New York Daily News. "Anything could happen."
This post has been updated throughout.