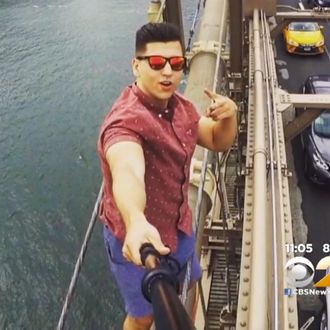 At the end of June, an adventurous tourist armed with a selfie stick climbed up onto a side railing of the Brooklyn Bridge and snapped a photo, which he obviously posted to Instagram. Now-21-year-old college student David Karnauch, who was identified soon after the incident, has been arrested in Tennessee and is considered a fugitive of New York.
He's wanted on a misdemeanor charge of second-degree reckless endangerment, and is being held without bond in a Chattanooga jail until his city court date of August 31, reports the Post. When the incident happened, NYPD Deputy Commissioner of Intelligence and Counterterrorism John Miller called Karnauch's stunt "irresponsible and illegal" but said it was not a security breach. 
Karnauch, who seems to wear only one shirt for photos, be they selfies or mug shots, told CBS that no one stopped him from getting onto the landmark. He also said he "didn't have any clue that NYC is ramping up security," apparently unaware of all the other tourists who now regret adding a bridge-scaling selfie to their travel itineraries.
Karnauch's arrest comes a little more than a year after the city solved the Brooklyn Bridge's Great Mystery of the White Flags, which was revealed to be the work of two German conceptual artists.