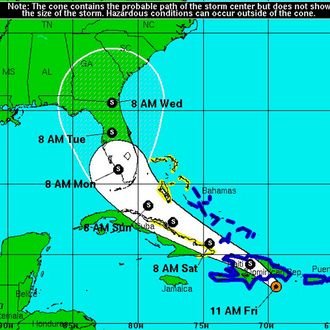 Florida governor Rick Scott declared a state of emergency in Florida as the projected path of Tropical Storm Erika shifted — making it look like the storm is heading straight for the state at the end of this weekend.
Scott called the storm a "severe threat to the entire state."
The storm has killed at least 20 people on the small Caribbean island of Dominica, where a foot of rain fell in a 12-hour period, causing devastating mudslides. About 80 percent of the island is without electricity, the airport is closed because of flooding, and many houses have been destroyed. At least 20 people are missing. A police officer told the AP, "The capital city is a wreck. It is a sight to behold. It's a disaster."
Schools and airports in Puerto Rico are closed today, and more than 200,000 people are without power. "We don't want to report any deaths," Governor Alejandro García Padilla said. "Use utmost precaution."
By the time the storm reaches Florida, it is expected to be much weaker than the force of nature wreaking havoc in the Caribbean. However, authorities in the state are still worried about rain — and the potentially brutal winds, power outages, and flooding that could accompany it. The storm could still dissipate before reaching Florida on late Sunday or early Monday; it is exceptionally unlikely that the storm will act in the opposite manner and strengthen into a hurricane. Many meterologists say they'll have a better idea of what the storm will do on Saturday — but local officials say residents should start getting ready despite the uncertainty.
According to the Washington Post, the last tropical storm to hit south Florida was Tropical Storm Bonnie in 2010. A hurricane hasn't hit the state in a decade. Right now, however, south Florida is facing a pretty bad drought. 
Authorities are preparing for future, uncertain storms here in New York City, too. Mayor Bill de Blasio announced yesterday that the city plans on spending $100 million on flood prevention in lower Manhattan. A report from earlier this year said that sea levels could rise more than six feet around New York by 2100, plunging parts of the city underwater.
"I saw with my own eyes what this community went through after Sandy," de Blasio said. "For people in this community, it's very vivid what it means that there is still a threat out there."