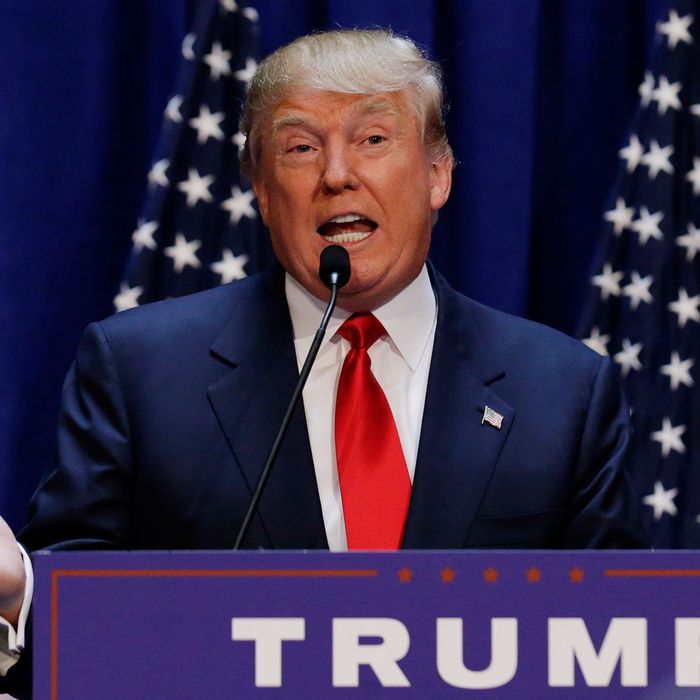 Everyone's fighting. What am I supposed to do about it?
Photo: Brendan McDermid / Reuters
No matter what happens when Donald Trump takes center stage at the prime-time Republican debate tonight on Fox News, he can already claim at least one victory: The 2016 GOP primary has been all about him. But while the Donald has defied political gravity during the six short (and strange) weeks he's been an unlikely presidential front-runner, there are signs that the natural laws of campaign physics apply even to him. It turns out that, inside a campaign that's been built on attacking seemingly anyone and everyone, the staff has now turned to attacking each other. 
At Trump Tower, rival staff members are vying to exert control over the campaign in a power struggle that's every bit as vitriolic as Trump himself. The battle lines are drawn between the longtime aides who have advised Trump for years and the new hires who have joined the staff in recent months. Even his daughter Ivanka has been caught up in it. According to sources with knowledge of the campaign's inner workings, the disputes over daily strategy decisions are fierce — and personal. Left unchecked, the dysfunction threatens to undermine a core message of the Trump campaign: his management acumen.
All presidential campaigns experience growing pains, of course — especially insurgent ones. But for Trump the trouble is that his campaign has barely grown. "Considering they have a staff of, like, three people at headquarters, there's a lot of infighting," one conservative who has been briefed on the situation told me. The conflict between the old guard and the new began in January when Trump hired a brash 40-year-old Republican operative named Corey Lewandowski to serve as campaign manager. At the time, Trump's entire political staff consisted of his lawyer Michael Cohen, veteran operative Roger Stone, and all-purpose aide Sam Nunberg. 
Last week, the factional differences spilled into public when the campaign fired Nunberg after Business Insider published an article revealing racist Facebook posts Nunberg had written in 2007. According to a source, Nunberg and his allies believed Lewandowski was involved in the leak as a pretext to force Nunberg out of the campaign — an allegation Lewandowski adamantly disputes. "I am denying 150 percent on my kids' lives that I had anything to do with it," Lewandowski told me. Nunberg couldn't be reached for comment. 
Whatever the case, Nunberg's firing and the turmoil it's caused in Trumpworld illustrates the difficulty Lewandowski has faced wresting control of the campaign. For months, according to a source, he'd been at odds with Nunberg. Not long after becoming campaign manager, Lewandowski instructed Nunberg, who'd been a Trump adviser for several years, to work from home instead of headquarters, a source said. Nunberg felt further marginalized when Lewandowski had him bumped off several campaign trips. The biggest flashpoint, however, was Lewandowski's refusal to release detailed policy papers Nunberg had written for Trump. "The campaign was getting killed for having no substance, and Corey wouldn't release them," a source close to the campaign explained.
Media strategy has become another locus of internal disagreement. According to a source close to the campaign, the old guard is frustrated that Lewandoski and another new hire, spokesperson Hope Hicks, seem to be favoring CNN over Fox News. For example, on July 15, Fox News chairman Roger Ailes spoke with Trump by phone and asked Trump to give Fox the exclusive on his $10 billion financial disclosure. Trump agreed and told Ailes to send a courier to Trump Tower to pick it up. But, according to the source, before Ailes's courier could deliver the release back to Fox, someone inside the Trump campaign sent it to CNN, thereby subverting Fox's exclusive. (For his part, Lewandowski says Trump never told him to give Ailes an exclusive look at the Federal Election Commission filing. "We provided everybody with a one-page release at the same time," Lewandowski told me.) Two weeks later, CNN beat Fox again on another major scoop when it obtained a campaign statement quoting Trump's ex-wife Ivana denying decades-old allegations aired in a Daily Beast article that she accused Trump of raping her while they were married. "The campaign was struggling to find her in Europe, they were bleeding in the national media," a source explained. "And then they gave a 60-minute jump to CNN, who buried the story in the back of a package and gave it short shrift. Again, Fox got this late."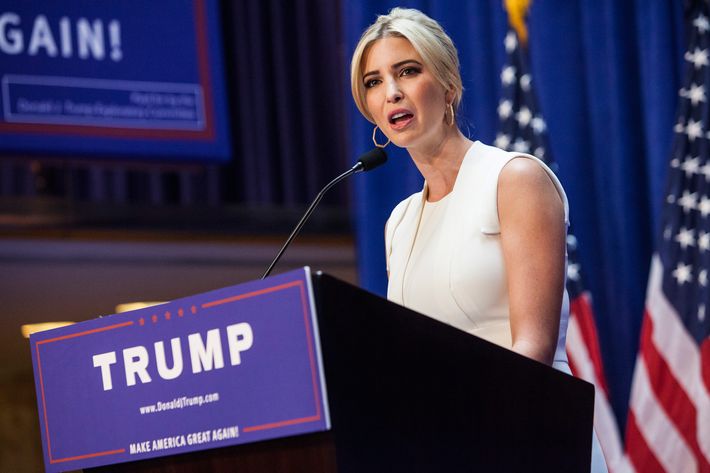 Much closer to home, Trump has also faced push-back from his daughter Ivanka. According to three sources close to the campaign, Ivanka was troubled by her father's comments that Mexican immigrants were rapists. "She's close to her father and is sensible enough to know a problematic situation," a friend of Ivanka's told me. Her feeling, the friend added, was that her father was hurting himself with his extreme anti-immigrant rhetoric. At one point, according to two sources with knowledge of the matter, Ivanka submitted several drafts of a statement for Donald to release to walk back the quotes, but he refused to have them published. "Donald didn't like it," a person close to him said. A spokesperson for Ivanka declined to comment.  
That Trump has sustained his surge despite all this messiness is a testament to his surprising political skills, his mastery of the media, or just the sheer weirdness of this year's Republican primary cycle. Either way, the staff turmoil shows no sign of abating. Yesterday, Lewandowski got embroiled in another public feud when he fired an Arizona-based Trump operative for publishing — you guessed it — racist posts on Facebook. When I asked about all the chaos, Lewandowski maintains that Trump wouldn't be affected by staff disputes. "Maybe you can call it growing pains," he said. "But we're only six weeks into a campaign when no one thought he was running and he is now the clear front-runner for the Republican nomination for president of the United States."