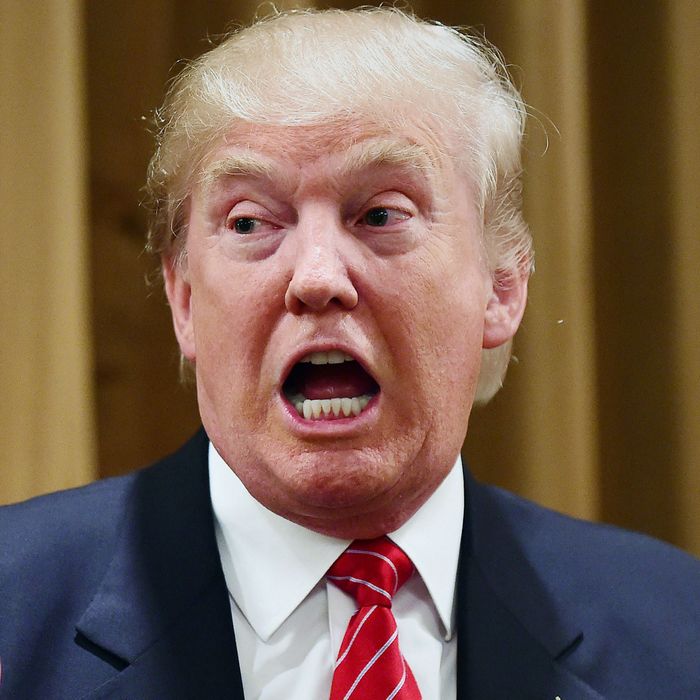 Donald Trump gestures at a press briefing on July 10, 2015, at the Beverly Wilshire Hotel in Beverly Hills, California.
Photo: FREDERIC J. BROWN/AFP/Getty Images
In 2004, the only time the Republican presidential candidate has won the popular vote in the last six elections, George W. Bush carried the Latino vote in Florida. But since 2004, the state's Latino electorate has grown quickly, and its expansion has had a heavily Democratic cast. The influx of Latino Democrats, along with rising black turnout, allowed Barack Obama to win the state twice despite suffering the same deteriorating support among white voters he had across other Southern states.
A new analysis by the Pew Research Center shows how quickly the partisan balance has flipped in the state. For years, the Cuban-American community, whose political orientation was dominated by a reaction against the Cuban revolution and an alliance with the Republican Party, defined the Florida Latino vote. As recently as 2006, Republicans still held a voter-registration advantage among Latino Floridians. In 2008, Democrats nudged ahead, and the gap has widened since.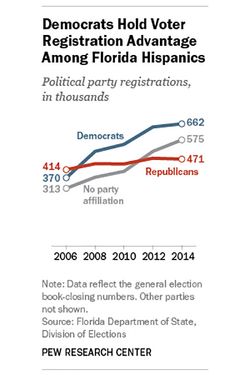 How do Republicans plan to rebuild their standing in Florida? Nominating a Floridian who speaks Spanish would probably help. What's not going to help them is Donald Trump.
A new Wall Street Journal/NBC/Telemundo poll finds that 75 percent of Hispanics hold a negative view of Trump. The danger posed by Trump is not that he'll win the party nomination, an outcome that remains fantastically improbable, but that he'll maintain a loyal following that Republicans will need. If Trump can avoid total self-immolation, he can force Republicans to give him a speaking spot at their convention, and generally treat him as a respected ally. That would be a poisonous outcome for the party, but Trump can probably obtain it if he wants to, because he can credibly threaten a third-party run that would make it virtually impossible for Republicans to win.
The Jeb Bush campaign believes (or, at least, tells people) that the attention commanded by Trump has redounded to its benefit. It is probably true that Trump is vacuuming up blue-collar voters who might otherwise support Scott Walker. Perhaps Trump will stay in the race all the way through, denying Walker a chunk of his primary base and letting Bush win the nomination. But what then?