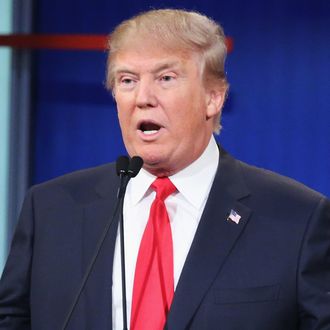 Photo: Scott Olson/Getty Images
It's finally happening. Donald Trump, who called Mexicans "rapists," said Senator John McCain wasn't a war hero because he got captured, and made fun of Rosie O'Donnell during a presidential debate, may have finally said something so awful even his grassroots conservative base is embarrassed. On Saturday, he was disinvited from a prominent pre-primary conservative meet-and-greet, the RedState Gathering being held in Atlanta today. 
Trump was scheduled to be the final speaker of the night — that is, until he told Don Lemon on CNN that Megyn Kelly, a Fox News host who helped moderate Thursday night's debate, was "asking me all sorts of ridiculous questions" and that "you could see there was blood coming out of her eyes, blood coming out of her wherever.''
Erick Erickson, the conservative commentator who runs the RedState shindig, told Trump that he should walk back the comments. Trump clarified his statement by noting that "wherever" meant "her nose."
Before Trump's dodging clarification, Erickson had already posted a statement on RedState about his decision to rescind Trump's invitation — and offer the businessman's speaking slot to Megyn Kelly instead. "I just don't want someone on stage who gets a hostile question from a lady and his first inclination is to imply it was hormonal,'' he wrote. Erickson told the Washington Post, "Look, I really wanted Donald Trump to be here. I don't think he's a bad guy. But I can't have a guy on stage who said Megyn Kelly was bleeding from her eyes or wherever. Bridge too far."
"I also think that while Mr. Trump resonates with a lot of people with his bluntness, including me to a degree, there are just real lines of decency a person running for President should not cross," wrote Erickson, who once called Wendy Davis "Abortion Barbie."
Trump later released a statement about being barred from the event. He called Erickson a "total loser" and said "it is an honor to be disinvited from his event" because the organizer "has a history of supporting establishment losers."
Many other people expressed horror at Trump's comments — especially those at the bottom of the polls who wouldn't mind if he disappeared from the presidential race.
Shortly before Trump insulted Megyn Kelly — after a day of angrily tweeting about her — the New York Times published a story about how the debate may have hurt the GOP's chances with women voters. "The G.O.P. needs to fight for women votes because it believes our policies are better for women," Republican consultant Margaret Hoover told the Times. "There's a difference between pandering and vote-courting: Thursday night, G.O.P. candidates did neither for women weary of the Republican brand." 
This morning, Trump tweeted that he was sorry to have missed the chance to hang out with voters still attracted to his brand of campaigning — which is generally disliked by a majority of the American public.
And yes, there are still voters standing by him at RedState Gathering.