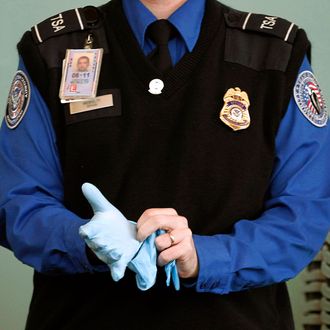 Photo: Jason Reed/Reuters/Corbis
A Transportation Security Administration screener at La Guardia Airport was arrested this week for allegedly molesting a 22-year-old woman in a bathroom in Terminal B on Tuesday night.
The Korean foreign-exchange student was flying to New York City from Salt Lake City to visit friends. After her plane arrived at La Guardia, 40-year-old Maxie Oquendo allegedly told her, "Hey, ma'am, I need to scan your body and your luggage." The student, who does not speak fluent English, followed him into a men's bathroom. He allegedly told her to lift up her shirt and unzip her pants, and then touched her breasts and put his hand down her shorts. She asked Oquendo if all the passengers were screened in the same way, and if so, could a woman agent conduct it instead. Opposite-gender pat-downs, according to PIX11, are only allowed when there is a witness present and no agents of the same gender are present to conduct it instead. Also, screeners aren't allowed to conduct pat-downs outside the checkpoint area. 
The woman was eventually allowed to leave the bathroom after Oquendo allegedly said into his phone something along the lines of, "She's clear. She doesn't have any weapons or knives." The student reported the assault to other TSA officials, and Oquendo was fired and arrested. He is charged with sexual abuse, official misconduct, harassment, and unlawful imprisonment. If convicted, he could face up to a year in jail. 
The TSA released a statement that said, "The vast majority of the TSA workforce serves with honor and integrity, and treats every passenger with dignity and respect. TSA is working in close partnership with the Port Authority Police Department in support of this investigation."