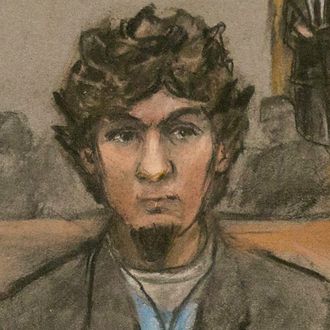 Photo: Jane Flavell Collins/epa/Corbis
On Monday, the defense team of Boston Marathon bomber Dzhokhar Tsarnaev appealed his death sentence, arguing that it was impossible for jurors to ignore the "media circus" surrounding the trial. "Put simply, prejudicial media coverage, events and environment saturated greater Boston, including the social networks of actual trial jurors, and made it an improper venue for the trial of this case," the 39-page appeal notes. The attorneys seemed especially doubtful that jurors would have been able to avoid stories about the bombing's victims and the solidarity of the city posted by friends on Facebook and Twitter.
The attorneys add that the retrial should take place in a city outside of Boston, where the jurors would not have such a visceral connection to the events that happened two years ago. "A new trial in a different venue is required due to continuous and unrelenting publicity combined with pervasive connections between jurors and the events surrounding the Boston Marathon bombing that precluded impartial adjudication in both appearance and fact." The defense team asked for the initial trial to be moved to a new location many times, requests that were obviously denied. 
The court filing also cited a dissent from Supreme Court justice Stephen Breyer, who wrote in June that capital punishment "now likely constitutes a legally prohibited 'cruel and unusual punishment.'"
Twenty-two-year old Dzhokhar Tsarnaev — currently being held at a high-security federal prison in Colorado — was convicted of 30 federal charges for his role in the bombing, which killed three people and left more than 200 people injured. The names of the jurors who sentenced Tsarnaev to death have still not been released. It has been 90 days, far longer than the 14 days a judge waited before releasing the names of the jurors at the Whitey Bulger trial. "The problem is that judges in high-publicity cases tend to think that because there's a lot of publicity, that's a reason to change the rules," George Freeman at the Media Law Resource Center told WBUR. "And if anything, that's backwards. Because it's just in those cases that the rules should be followed and the presumption of access should exist, because those are the cases the public is interested in."