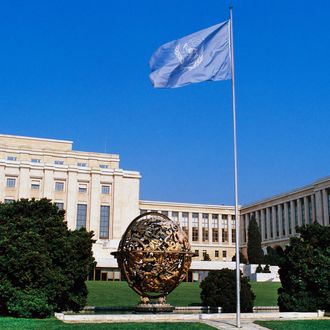 SWITZERLAND - MAY 27: The United Nations building, 1931-1938, Geneva, Canton of Geneva, Switzerland, 20th century. (Photo by DeAgostini/Getty Images)
Photo: DeAgostini/Getty Images
Earlier this week, Switzerland's Tribune de Geneve introduced us to perhaps the world's saddest unpaid intern: David Hyde. Hyde, a 22-year-old New Zealander with a degree in international relations, has spent the last couple weeks living in a little blue tent near Lake Geneva. As he explained to the newspaper, the modest accommodations were the best he could afford with his United Nations internship salary of zero dollars. But on Wednesday, Hyde decided that enough was enough.
In a small press conference outside of U.N. headquarters, Hyde announced that he was resigning from his highly-coveted gig: "It's my own decision and I chose to resign because I felt that it would be too difficult to continue to focus on my work as an intern at this stage I'm announcing my resignation from the United Nations internship program."
Hyde also explained how he wound up living in a tent in the first place. "After graduating, I began to apply for jobs but all I could really find was internships. And at the end of every interview, the same question always came up toward the end: 'Can you afford to fully fund yourself for the duration of this internship?' When I answered this with an honest 'no,' my application was declined. So when I applied for this role with the UN, I did not fully disclose my true financial situation. I said I had enough to support myself when really I didn't, and I got the job." 
"The UN was clear about their intern policy from the start: no wage or stipend, no transport help, no food allowance, no health assistance. I understood this, and in that regard, I have to take responsibility for taking the internship in the first place," he added. "I just want to make it clear that no person forced me to sleep in a tent, but rather my circumstances and the conditions for this internship made it the only real possibility that I could see."
When contacted by The Guardian, Hyde's mother said that she had been unaware of her son's living situation and was willing to help him out financially. However, she believed that he'd be unwilling to accept money from her, citing his "strong view on principles and how people should be treated." To that end, Hyde told reporters that, like many others, he found the long tradition of asking young people to work for free "not fair," and encouraged his fellow unpaid interns to "push for the recognition of our value and the equal rights that we deserve." So while Hyde will be missing out on the UN experience, he can at least add "international symbol of unfair labor practices" to his resume.