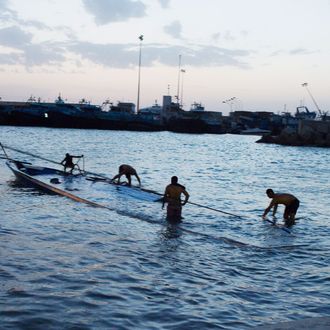 Photo: Mohamed Ben Khalifa/Corbis
A boat leaving Libya on Thursday sank not long after it left the coast. Around 400 migrants were inside, heading for Italy. Rescue workers told the U.N. that they didn't have enough body bags — at least 82 dead migrants have been recovered. 
Nearly 200 people were still missing on Friday morning, and 198 had been rescued. The recovery effort is slow; the Libyan coast guard relies on borrowed fishing boats in many rescue efforts. They only have one ambulance. 
At least 2,500 migrants have died trying to get to Europe this year. 
On Thursday, the decomposing bodies of 71 migrants were found on the side of an Austrian highway in an abandoned truck that once transported frozen chicken. Four children were among the dead. Three people believed to be involved with the smuggling of these migrants — some are believed to be Syrian based on a passport recovered from the truck — have been detained in Hungary. According to Austrian authorities, the owner of the truck was "a Bulgarian citizen of Lebanese descent."
On Wednesday, the bodies of more than 50 migrants were recovered from a ship off the Libyan coast. A Canadian medic told Agence France-Presse, that he could smell gas in the hold where the dead were found. "I just quickly checked for signs of life and moved on. There was water in the boat, some people were half in the water, face down …" Those who survived said they paid smugglers unthinkable sums to escape to the top deck. One man paid nearly $4,000 so he and his wife and son would have enough air to breathe. Those who were unable to pay were beat with sticks so they would stay in the hold, where they died in a puddle of "water, fuel and human excrement," according to The Wall Street Journal. 
Another ship with 100 people aboard capsized on Thursday morning. 
In Vienna, near where the truck was found, European leaders struggled to figure out how to prevent migrants from dying in such horrifyingly large numbers. "Those who look back to World War II history know that there were people who depended then on asylum" to stay alive, Austrian chancellor Werner Faymann said, according to the New York Times. He added that the same principle holds true today, and that the leaders had the opportunity to "save lives."
Other countries have begun trying other methods for combating the crisis. In Hungary, a fence is being built on the Serbian border to keep migrants out. On September 15, more than 2,000 "border hunters" will be deployed with police dogs, horses, and helicopters. Water cannons are being readied, and military force is being considered. The Council of Europe's human rights commissioner called these methods "ill-advised." In Serbia, officials banned an anti-migrant rally, saying that the government "will not allow any kind of gatherings against people forced to flee poverty and wars."
German chancellor Angela Merkel said something similar earlier this week. "There is no tolerance for those people who question the dignity of others, no tolerance for those who are not willing to help where legal and human help is required. The more people who make that clear … the stronger we will be."