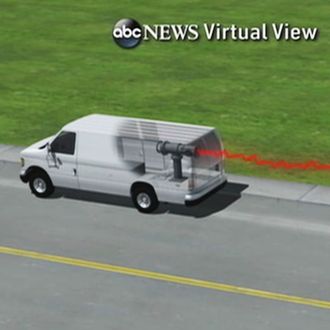 ABC News explains what it would look like if a person got zapped with a death ray, in case anyone was confused.
The trial for a man accused of building a death-ray machine in order to kill Muslims and President Obama began in Albany this week. The FBI arrested self-described Klansman Glendon Scott Crawford and his friend in 2013 for allegedly planning to target a mosque, a Muslim school, and the White House with a remote-controlled x-ray gun nicknamed, "Hiroshima on a light switch."
He allegedly told undercover FBI agents, "How much sweeter can it be than a big stack of smelly bodies?"
The machine, which FBI experts said was  "functional" and "lethal," would be powered by a vehicle's cigarette lighter; Crawford allegedly said that he wanted to hide the machine in a van labeled, "Halal Meat."
Undercover agents allegedly helped the 51-year-old defendant, who worked at General Electric as an industrial mechanic, acquire the materials for his machine. He was arrested shortly before the machine was completed. 
Federal authorities began investigating Crawford in 2012 after he called Jewish leaders and asked about technology that could kill "Israel's enemies while they slept." In the trial's opening arguments yesterday, a staffer at the synagogue Crawford visited told the courtroom, "He had a plan to help Jews get rid of their enemies. I told him we don't really have any direct contact with Israel."
According to the Albany Times Union, the jurors may get a chance to see the death-ray machine during the trial. "The government intends to produce the X-ray device and will request that the court permit the jury to view it in a secured room within the courthouse," prosecutors wrote in a pre-trial brief. "The device itself is very real, and its size, relative weight, component composition, and portability are directly relevant to the charged offenses. Juror inspection of it will give context to, and corroborate, other evidence the jury will see and hear."
Crawford's attorney, Kevin Luibrand, argues that the death-ray machine doesn't work, and that his client — a conspiracy theorist — was a victim of government entrapment. The device was a "piece of paper and an idea" before the investigation began, Luibrand says, and Crawford's "initial involvement was solely with respect to his general ideas about such devices and the prospect of their use overseas against Muslim extremists."
"He had, he thought, a unique idea that he thought the bad guys could be destroyed by a device," Luibrand  said on Monday during opening arguments. Crawford allegedly had another idea that he later abandoned that would transform drones into flying radiation machines that would turn people "into oil."
If convicted, Crawford faces at least 15 years in prison. He has been charged with "attempting to produce, construct, acquire, transfer, receive, possess, and use a radiological dispersal device; conspiring to use a weapon of mass destruction; and distributing information with respect to a weapon of mass destruction." His friend, Eric Freight, pled guilty but has not been sentenced; it wasn't clear whether he would testify against Crawford in the trial. At this point, the prosecution's list of witnesses include a Ku Klux Klan member from North Carolina who cooperated with the federal government and two experts who will explain to jurors why a remote-controlled death-ray machine is terrifying.