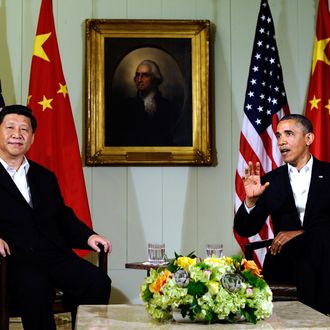 President Obama meets with Chinese President Xi Jinping in November 2014.
Photo: JEWEL SAMAD/AFP/Getty Images
Two weeks after the State Department told Chinese agents hunting the nation's fugitives that they must leave the U.S., the Washington Post reports that the Obama administration is developing a package of economic sanctions against Chinese companies and individuals who benefit from economic espionage by Chinese hackers. In addition to stealing U.S. trade secrets, China is accused of compromising the personal information of 22 million federal employees. While the sanctions are not directly related to the Office of Personnel Management hack, that helped convince U.S. officials to take action against Chinese cyberspying. The decision on whether to implement the sanctions could come in the next two weeks, just in time to make Chinese president Xi Jinping's state visit even more awkward.