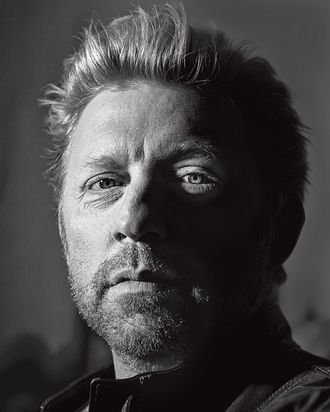 "Tennis is the only sport I know of where you have your locker right next to your opponent. You see him naked."
Photo: Thomas Kierok/laif
On a Monday in mid-August, 47-year-old Boris Becker is hobbling across the lobby of the Marriott in Mason, Ohio, where the pro-tennis caravan has pitched its tent for the last hard-court tune-up before the U.S. Open. If his shockingly reduced gait (owing to two hip replacements and a steel plate in his right ankle) is the cost of hurling his 215 pounds at passing shots like a goaltender, then it seems too high. But how do you set a fair price on seizing tennis immortality by winning Wimbledon at 17? 
Becker has been cooling his heels in Ohio for two days, waiting for Novak Djokovic, whom he coaches, to arrive from Montreal, but there's no hint of impatience; in fact, after nearly two decades of wandering in the wilderness, his relief and pleasure at being back at the red-hot center of the game is palpable. In his white Puma shirt and loose-fitting slacks, the German champion carries himself like an old-school Brooklyn wiseguy crossed with a beloved head counselor on the first day of summer camp. When he spots Martina Hingis by the Starbucks, he makes a painful detour to kiss her on both cheeks.
The previous afternoon in Montreal, Djokovic had lost to Andy Murray in a fiercely contested final, his first loss to Murray after eight consecutive wins. When I ask Becker if he's had a chance to talk to Djokovic about the match, he takes a sip of espresso from a tiny paper cup and says, "No. When I do, I will compliment him. Mentally, he was right there to the end. The winner gets always the flowers, and this time Andy deserved the win, but Novak didn't buckle and never gave in. And no disrespect to Montreal or Cincinnati, but at the end of the day, the only question people are going to ask is 'Did you win the U.S. Open?' "
Twenty months ago, when the world's best player named Becker his new head coach, the hiring was viewed with near-universal skepticism, even in the era of the celebrity coach. Ever since Ivan Lendl came in to sort out Murray in 2012, guiding the perennial also-ran to two majors and Olympic gold, elite players have been buying up former greats like Bosnian beachfront. Currently, five of the top ten men are coached by former major winners, including all of the top four. The notable exception, of course, is Rafael Nadal, coached since childhood by Uncle Toni, though his game has been in precipitous decline of late.
With three Wimbledon titles and six majors, Becker certainly had the résumé. He beat John McEnroe in a Davis Cup match that ran six hours and 21 minutes, scored 19 wins over players ranked No. 1 in the world, and came back from two sets down ten times. The issue was all the crap he'd gotten into since. That retirement is problematic for ex-athletes is a given, but Becker ran into trouble immediately, impregnating a model in the stairwell of the London Nobu hours after he lost his last match at Wimbledon — while his wife was pregnant. There was a very public and expensive divorce, followed a couple of years later by a conviction for tax evasion that nearly sent him to jail. The surfeit of time on Becker's hands is reflected in too many autobiographies (three in roughly a decade) and too many appearances on European game shows, on one of which he announced his engagement to his second wife. But according to a German sportswriter, the nadir, dignity-wise, was an unseemly tweeting war with TV personality Oliver Pocher, who married Becker's former fiancée.
Surely, in the era of player as billboard and brand ambassador, such loutishness would disqualify Becker as mentor to a 28-year-old new father and husband, but, to Becker's good fortune and the tennis world's surprise, Djokovic couldn't have cared less about any of it — and, based on the results so far, he was right not to. After a disappointing 2013 in which he lost two finals and the top ranking to Nadal, Djokovic is dominating again, with victories in three of the last seven majors (although Djokovic was the solid favorite in at least six of them). "At this level of the sport, matches are won by strategy, mentality, and willpower," says Becker. "And that's where I come in."
Becker's most impressive work so far has been the way he guided Djokovic to the last two Wimbledon crowns. For Becker, Wimbledon is "home soil" — literally, because the village has been his primary residence for several years, and figuratively, because it's where he was born as a champion in 1985, when he won as an unseeded teenager. So before the 2014 tournament, Becker set about making Djokovic feel at home there. To prepare him for the routinely bad bounces of Centre Court, he had him practice on the far worse grass of Aorangi Park, and to keep fresh going into the second week, he had him not practice at all the first Saturday. He also employed his natural talent for gamesmanship, honed by half a dozen years playing high-stakes poker. "I wouldn't call myself a pro, but I've played with the best. Phil Ivey would know me. Daniel Negreanu would know me. In poker, you have to read the other guy. One of my strengths is reading the other guy."
According to Becker, the semis and finals of majors are very similar to a poker game. "It's a lot about mood changes, momentum changes, how you deal with uncomfortable situations … And I've been out of my comfort zone most of my life." 
Even Becker's latest autobiographical effort, Boris Becker's Wimbledon, seems like an ingenious, if shameless, attempt at psychological warfare against Djokovic's top rival, Roger Federer. In the book, published, for maximum effect, just before the most recent Wimbledon, he recounts a brief locker-room face-off between Federer and Djokovic (whose dislike for each other, he writes, is an "open secret") before the 2014 final. "Tennis is the only sport I know of where you have your locker right next to your opponent," he tells me poolside at the Marriott. "You see him naked. You see him go to the bathroom. You see him take a shower. Imagine doing that in boxing. Or in basketball. Or in football. Then, you go out and play for fame and glory and money. And because that's one of my strengths,
I notice a lot of what happens before these matches, and if I can use it, I will."
Becker says that when he and Djokovic arrived, Federer and his coach, Stefan Edberg, were already there, but not for long. "Obviously, they felt their privacy was compromised, so they went somewhere else," writes Becker. "I felt a sense of 15-love, that we'd struck the first blow." In other words, if it had been Becker sitting naked in front of that locker, he would have casually scratched his ass, held his ground, and stayed put. Considering the closeness of the match that followed, there's plenty of evidence to suggest that the encounter didn't actually mean a thing to either contestant, but what's telling is that Becker, who wrote the book on Djokovic's payroll, is trying to get into Federer's head again by recounting the story.
Djokovic's victory in the 2014 Wimbledon final — their first major win together — was hugely satisfying for Becker, who called it his most emotional moment since he stopped playing. "You need proof. A big scalp. Well, this was it. End of argument. At the end of the day, I was hired to win Slams."
The challenge going into last month's Wimbledon was just as formidable, because Djokovic was fresh off a devastating loss to Stan Wawrinka in the finals of the French. Becker had very little time to get him over it. "That three-week period was really difficult, much harder than coaching a semifinal." One canny thing that Becker did was get Djokovic back on the practice court with Wawrinka, booking two practice sessions with him at Wimbledon. "Now and then you have to shake Stan's hand and say, 'Son of a bitch. You played better today.' And that's okay."
Kind of. But not if it happens again in New York. If Djokovic loses the Open, it's still a solid year, but it's not a year that will silence Becker's detractors. If Djokovic wins here, he shuts them up for good. Or, as Becker puts it in his streamlined English: "End of argument."
*This article appears in the August 24, 2015 issue of New York Magazine.