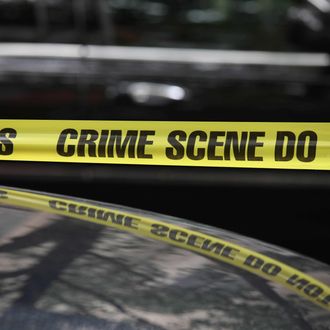 Photo: Rob Kim/Getty Images
Back in early March, Curtis Smith climbed over a White House wall, trying to "pass a message to the President." The now-34-year-old man from Coatesville, Pennsylvania, was reportedly killed today after he charged a sheriff's deputy at the Chester County Justice Center in Chester, Pennsylvania.
According to the Chester County District Attorney, Curtis entered the lobby of the courthouse armed with a knife and rushed at the deputy, cutting his arm and hand. As Smith attacked, another on-duty deputy fired at him; Smith was hit and died on the way to the hospital. Witnesses said they heard three gunshots; no bystanders were hurt during the chaos at the court.
The injured deputy is also being treated for his wounds, which don't appear to be life-threatening. 
Authorities said they are unsure why Smith came to the courthouse today. He is facing charges of burglary assault and harrassment, but his preliminary hearing is reportedly not scheduled until October.
The D.A. confirmed that this Smith was the same one who trespassed on White House grounds — one of a number of security breaches at 1600 Pennsylvania Avenue that happened in the past year and put a harsh light on an already beleaguered Secret Service. After the incident, Smith was charged with unlawful entry for his White House stunt, but ABC Philadelphia reports that he had made a deal to avoid a penalty if he kept his record clean.