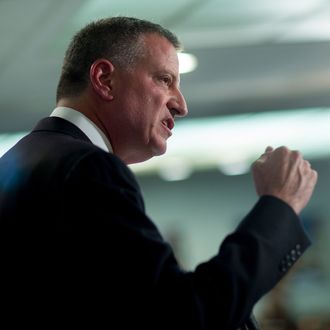 Photo: Andrew Harrer/Bloomberg via Getty Images
New Yorkers like Mayor de Blasio less than they used to, according to the latest Quinnipiac University poll. At 20 months into his term, 41 percent of voters want to see de Blasio reelected in 2017, while 47 percent don't. His approval rating is at 44 percent — the same as it was back in May — but his disapproval rating has risen from 40 percent to 44. As always, the people who like de Blasio the least are white.
From Quinnipiac: "…Black voters approve of the mayor 64–24 percent and say 58–33 percent he deserves reelection. White voters disapprove 59–32 percent and say 61–29 percent he does not deserve reelection. Hispanic voters approve 48–38 percent and back reelection 49–40 percent." De Blasio seems to have been doing better with everyone at the beginning of the summer. According to a Bloomberg poll conducted in early June, black, white, and Hispanic voters approved of his performance by 78, 57, and 54 percent, respectively.
De Blasio's office responded to the not-so-good numbers by saying that, "This is a mayor who focuses on the fundamentals New Yorkers care about, not political chatter." His spokesperson also noted that Michael Bloomberg had a 60 percent disapproval rating at roughly this point in his first term, and that guy somehow managed to stay mayor almost forever.