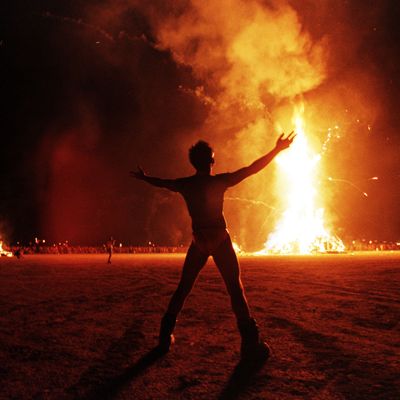 Will the fire soon burn year round?
Photo: Mike Nelson/Getty Images
Each year, Burning Man devotees worry that the festival is jumping the shark. This year is no exception, with another round of stories about the gathering devolving into a wealthy playpen, ruined by rich people. But 70,000 people will still gather in Nevada next week. Tens of thousands more will be outbid for tickets. Small crowds will even show up and wait at the Native American–run burrito stands in the desert, hoping someone who leaves early will pawn off a reentry pass. During the week of Burning Man — starting Sunday and running through Labor Day — the cultural center of gravity of the tech world migrates east from the Bay Area to the Nevada desert. Whatever else you might say about Burning Man, it is certainly still, in all senses, happening.
Among Burners who know the organization well, the more urgent subject of discussion this year is about possible major changes afoot in the festival. Burning Man's leadership, nicknamed "the Borg," has been quietly pushing the entity toward a new phase. As the six founders who built the festival, and still guide it, start to age, a new generation of leaders is being tapped, including the charismatic and ambitious Bear Kittay, now "Burning Man's social alchemist and global ambassador." The Borg is cagey about plans, secretive about money, and distrustful of the press (whose Wi-Fi they've shut down this year). But co-founder Marian Goodell has hinted at another major change: expanding beyond Black Rock Desert — the dusty Nevada expanse that's become almost synonymous with the festival — and developing a private tract of land as a permanent Burning Man community. 
Last year, the Borg renewed efforts to purchase and develop a nearby property, the geyser-filled Fly Ranch, which they'd been eyeing for years. As Goodell recently said on a podcast called "Positive Head," "For the long-term survival of the culture, we are going to need a physical space … We will, as time goes by, find it hard to only be in the Black Rock Desert. We may need to find a place that would allow for infrastructure. I'm certain that's in our future."
Fly Ranch is, by all accounts, spectacular: It's about 4,000 acres (880 of which are wetlands) with 23 hot and cold springs and around 40,000 feral horses. There's one 104-degree lake that's a couple hundred feet wide. Rod Garrett, one of the original architects of Burning Man, had drawn up plans for a Burning Man Fly Ranch city, a mix of homes and communal spaces built to blend into the desert.
"Employees and affiliates may build on a 'Homestead' basis, or rent or buy into the Village community at the project's north end," he wrote in his lengthy proposal.
According to one plan, Fly Ranch buildings would be made with unpainted, rammed earth and sod. No fences would be allowed, and all members of the community, who could either build homesteads or buy into a communal village, would live by Burning Man's "Ten Principles," which include "radical inclusion" and extreme devotion to gift-giving. Organic vegetable farming and a Burning Man–like conference business would serve as the economic base of the community. The annual festival at Black Rock City would continue, of course.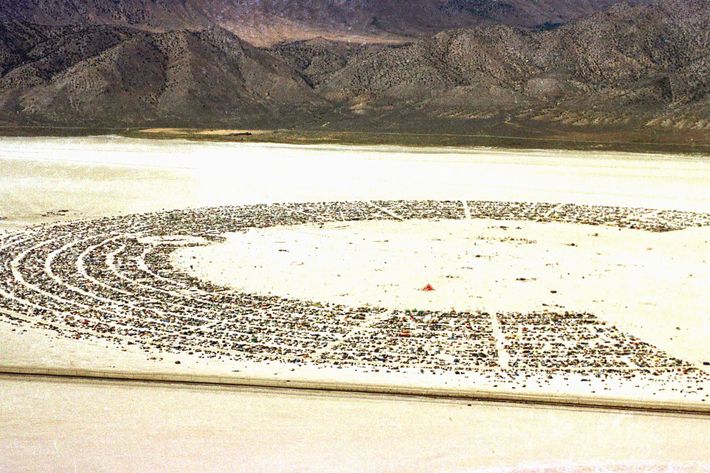 Festival co-founder Will Roger writes of this new Burning Man city in utopian terms: "I fondly hope that this concept can develop rapidly, and become not only a destination for learning and wonder, but a model to the world of a community, although remote, that is ideal and sustainable. It is for the Burning Man Project to create this wilderness paradise." (I would argue that the proposal is part of a large strain of utopian separatism that can be found in the modern-tech boom: a sibling to Tim Draper's push to split Silicon Valley off as its own state, Peter Thiel's Seasteading efforts, or Tony Hsieh's attempt to build a start-up city in Las Vegas. But a Burning Man permanent community would arguably be the most interesting and achievable manifestation of it.) 
Development of this scale would require a lot of money, and last year, the organization began giving tours of Fly Ranch to potential investors. People around the playa whispered that well-known Burners like Elon Musk, Sergey Brin, and hotelier Chip Conley were among those shown the property (though none have confirmed that they actually were). 
On message boards and an unofficial Burning Man blog, Burners seem thrilled about the rumors of permanent land. But Burning Man employees are worried about the reaction to potential investment from tech entrepreneurs, which could play into concerns about the festival becoming a tech conference.
Toward the end of last year's festival, I sat down with Will Roger, the festival co-founder. Roger, 66 years old, sunburned, and wearing a torn bandana around his head, was in a lawn chair beside his Flying Cloud trailer at "First Camp," where the Burning Man founders, staff, and special guests stay. He was covered in the fine red playa dust, as was I, and everything around us. I asked him if the rumors of buying land were true and whether tech titans were involved.
Roger leaned back in his chair. "I fell in love with the property," he said.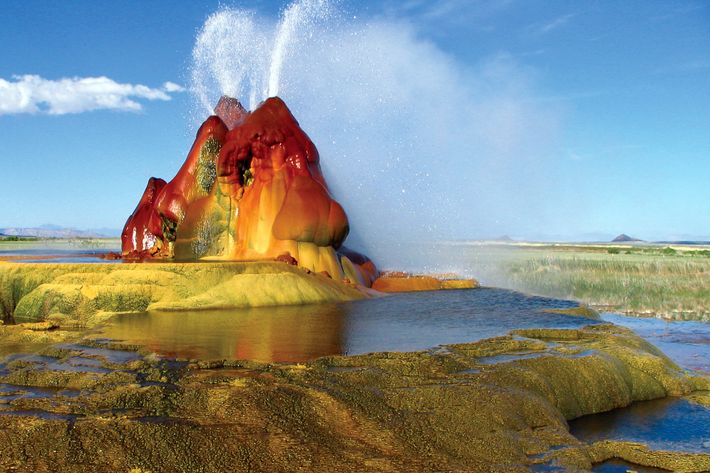 Burning Man first tried to buy it in 2005. They tried again a few years ago, but the asking price was around $11 million to $12 million, and they only raised about a half-million dollars, he said. But last year, the landowner Sam Jasick passed away, leaving his son Todd in charge, and Todd said he'd welcome another offer. Roger, who lives in the nearby town of Gerlach, decided this time he would get it right.
During last year's festival, he said they were leading two tours a day. They had set up a little camp there for prospective investors to lounge and get a sense of the area's energy. From Roger's perspective, buying land means Burning Man can serve more people — the demand for tickets already far exceeds the supply. "This year, 60,000 people didn't get tickets to this," he said. "By owning our own property, it means putting in our own infrastructure. It could be a retreat center or an art park." He said the plan would be to build that retreat center and a museum, hold smaller events, and create a city to test out what it would be like to live on Mars (guess which tech billionaire could be thinking of that?). "What interests me is the experiment in a permanent community," he said, adding that the tech titans felt the same way. "They're interested in that, too, yes."
Adjacent to the Fly Ranch property is, Roger said, "a playa, public land." He has joined a political group: the Sierra Front-Northwestern Great Basin Resource Advisory Council. In this position, he helped to declare that land disposable, defined by the Bureau of Land Management as "land that can be sold." He added, "Getting it on the disposable land list was crucial because we could have our own playa then, something smaller for five to ten thousand people." The property is "A-rated solar, A-rated wind," and Roger said that the income from that power generation would become the foundation for a community. "If you look at a 100-year plan, it could be remarkable as a planet-changing culture," he said.
As Burning Man emerges as an emotional and intellectual center for the tech world, Roger thinks the chances of a deal going through are higher than ever. His employees were leading tours while he hung out at First Camp — "I don't swim in that world, but my staff swims in that world," he said. He said he was just thrilled the vision to create a town has finally come closer to fruition. "I've had my dream in this and my heart broken so many times," he said. "Now I'm 66 years old, I'm almost retiring, and it might happen."
A year has passed since we sat together in the playa, and it hasn't quite happened yet. When I asked a Burning Man representative about their plans, the website they'd had up — saying they'd begun to develop the land — had come down. But on the Wayback Machine you can still see their statement: "The Burning Man Project is pleased to announce the initiation of the preliminary stages of the development of the Fly Geyser property."
A quote on the site from Will Roger reads: "The Fly Ranch Project is a key component of a broader plan for economic and community development in the Northern Nevada area."
Whether it's Fly Ranch or another state, as the Borg has threatened since being levied with a Nevada entertainment tax, the move — toward permanence, toward investment, toward a city, toward secrecy — is why Burning Man is now more interesting than it has ever been.