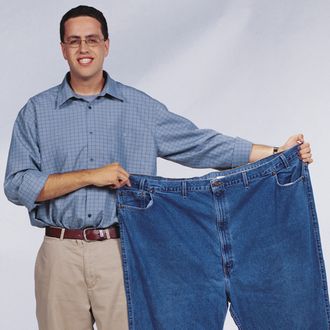 Photo: The Jared Foundation
Former Florida journalist Rochelle Herman-Walrond told CNN that she had been recording her conversations with Jared Fogle for more than four years — and that those recordings played a role in the federal investigation that will lead the former Subway spokesperson to plead guilty to charges involving child-pornography possession and traveling across state lines to have sex with minors. 
Herman-Walrond says she first got in contact with the FBI after covering an event at a school in 2007 that Fogle was attending. "He told me that he thought middle school girls were so hot," she told CNN. "I was in shock … I actually was questioning, 'Did I really just hear what I think I heard?' I looked over at my cameraman … and he was just astounded."
Herman-Walrond says she told the FBI about Fogle's comments after he talked about having sex with minors — "It was just something that he really, really enjoyed" — and federal authorities asked her to wear a wire. She stayed friendly with him for the sake of the investigation, although she thought he was "a monster," as she told ABC7.
He later allegedly talked to Herman-Walrond "about installing hidden cameras" in the rooms of her two young kids. He asked if Herman-Walrond "would choose which child [she] would like him to watch." She didn't understand why Fogle was telling her these things. "Why would I be the only one? He had something compelling him inside that he wanted to reveal what he was doing," she told ABC7. "Did he want to get caught? I don't know." She added to CNN, "People seem to take to me quite easily."
The U.S. Attorney's Office in Indianapolis confirmed to CNN that Herman-Walrond's information was part of its investigation. The court date where Fogle will have to accept his plea deal — which could put him behind bars for up to 12.5 years — has not yet been set. Fogle will also have to pay a total of $1.4 million to the two minors he paid to have sex with and the 12 other victims — one was allegedly only 6 years old — who were photographed by the former executive director of the Jared Foundation, who was charged for child-pornography possession earlier this year. According to court documents, Fogle allegedly knew the names and addresses of some of the minors being photographed, and socialized with them and their families at events in Indianapolis. He would allegedly schedule business trips for Subway and the Jared Foundation, and work around his plans to pay for sex with minors. 
Fogle's wife is filing for divorce; she released a statement this week saying she is "obviously … extremely shocked and disappointed by the recent developments involving Jared," and that her "focus is exclusively on the well-being of [her] children." His family released another statement noting that they were "shocked and profoundly disappointed in Jared's abhorrent criminal behavior," and "very concerned for the well-being of those affected by his conduct."
We hope that he will become healthy again and are confident that after he serves his sentence, he will continue to make amends. We look forward to the day that he rejoins our family and society.
Other people and organizations have also quickly moved to distance themselves from Fogle. His high school in Indianapolis removed him from the Wall of Fame; the pictures of 102 other notable graduates remain.
Subway has released several tweets and statements in the weeks since Fogle's house was raided in early July noting that he no longer works for the sandwich chain. The company released a statement on Wednesday that said, "Jared Fogle's actions are inexcusable and do not represent our brand's values." Business Insider reported last month that a former Subway employee allegedly informed the company that Fogle had told her about paying for sex with a minor. Subway said it had no record of the complaint. Gawker reported on Friday afternoon that Herman-Walrond says she emailed Subway's corporate office in 2009 about her interactions with Fogle. "I never got a 'Thank you for emailing' or anything like that, but I sent it and it did go through," she said. 
Fogle was the most recognizable face of Subway for 15 years, and has a reported net worth of $15 million. He is currently under house arrest. 
Fogle is not allowed to have unsupervised contact with anyone under the age of 18, although he will be allowed to see his two young children. He is not allowed to use a computer or the internet without approval from his probation officer. He had to surrender his passport and is wearing a GPS device.
This post has been updated throughout.