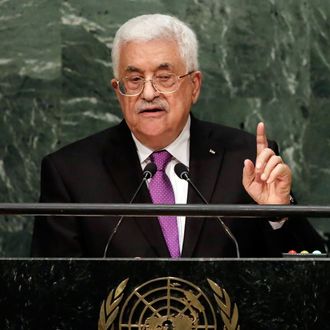 Palestine's president, Mahmoud Abbas.
Photo: Richard Drew/AP/Corbis
Palestinian Authority president Mahmoud Abbas said he intended to "drop a bombshell" in his speech at the United Nations General Assembly. Some thought the 80-year-old leader might resign; instead, it turned out his big surprise was saying that he no longer is interested in obeying the Oslo Accords, agreements meant to keep the peace between Palestinians and Israel and mark the territory each entity was supposed to control. 
Abbas accused Israel of violating the agreements and acting "as an occupier," actions he said "render us an authority without real powers." 
"We therefore declare that we cannot continue to be bound by these agreements," he said, "and that Israel must assume all of its responsibilities as an occupying power, because the status quo cannot continue." He added, "The current situation is unsustainable. Our people need genuine hope and need to see credible efforts for ending this conflict, ending their misery and achieving their rights."
As Al-Jazeera notes, "According to the International Committee of the Red Cross, the duties of an occupying power include maintaining public order, providing food and medical supplies, ensuring public health, and facilitating the work of educational institutions, among other tasks. Settlements would also be explicitly banned."
It wasn't clear how serious Abbas's threat was — he has often expressed anger about Israel's actions concerning Palestinian territory — and he mentioned no timeline or deadline for dissolving the Palestinian Authority or refusing to cooperate with Israel in the future. The speech may instead have been a cover for his waning popularity, or a way to make other countries and diplomatic entities more interested in the Israeli-Palestinian peace process again.
Abbas wrote an article for the Huffington Post Tuesday about the fact that the Palestinian flag would be flying at the United Nations for the first time. "While the Israeli government pays lip service to the two-state solution internationally, domestically it employs policies aimed at destroying what's left of Palestine," he wrote, adding that "a collective, multilateral peace process is necessary. Such processes have made significant progress in difficult negotiations for the Balkans, Libya and Iran. They should be attempted to decisively end the Palestinian-Israeli conflict after all these years of futile attempts to achieve peace." Wednesday at the U.N., Abbas declared September 30 to be Palestine's flag day. 
The United States and Israel both voted against the motion to raise the flag at U.N. headquarters. In 2012 the U.N. upgraded the Palestinian Authority to a "non-member observer state" — the same status held by the Vatican.