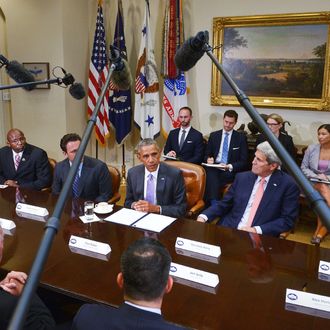 President Barack Obama speaks during a meeting with veterans and Gold Star Mothers to discuss the Iran nuclear deal.
Photo: Mandel Ngan/AFP/Getty Images
Senate Republicans were unable to find the 60 votes they needed to stop a Democratic filibuster on a procedural vote Thursday afternoon, which means that the anti-Iran-deal resolution has been blocked — and President Obama won't have to veto it, leaving the White House with a pretty big win.
Since 42 senators announced their support for the nuclear agreement, it was clear that the deal's opponents — all Senate Republicans and four Senate Democrats — didn't have the votes to override a veto. This week, the big unknown question was whether enough of the deal's supporters would join a filibuster preventing the vote from even happening, or whether the resolution would have to visit the White House before dying.
After hours of debate, the resolution met a confusing procedural end, which made the Iran deal's supporters very happy …
… And the deal's opponents very, very unhappy.
Earlier in the day, Senate Majority Leader Mitch McConnell begged Democrats to let the resolution go to a vote during a floor speech. "I know some of our colleagues are currently under immense pressure to shut down the voice of the people. But I ask colleagues to reflect on the gravely serious nature of the issue before us." McConnell said he plans to revisit the resolution next week. Congress has until September 17 to reject the Iran deal. 
Obama spoke about the deal on Thursday, too, meeting with Iran-deal-supporting veterans at the White House along with Secretary of State John Kerry. "[The veterans] know the consequences when we rush into war," Obama said. "They understand what it means when we act without broad international support and when we fail to consider unintended consequences."
Over in the House, Republicans are still plotting other ways to doom the deal — many conservatives got bored with the resolution this week anyway. Speaker of the House John Boehner even said he was willing to sue the president (again) if it meant stopping the Iran deal. "That is an option that is very possible." He said earlier, "This debate is far from over. Frankly, it's just beginning."