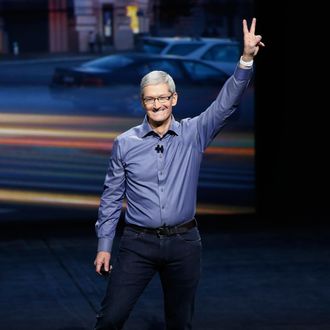 Apple CEO Tim Cook.
Photo: Stephen Lam/Getty Images
At Wednesday's Apple launch event — basically the Oprah's Favorite Things of tech — CEO Tim Cook showed off the company's latest sleek gadget, the iPad Pro. On Twitter, the initial reaction to the new device, which has a nearly 13-inch screen, was something along the lines of "Is that a tablet or an Imax screen?!" 
The word huge was uttered so many times that it seemed like people were instead liveblogging the Donald Trump rally that was simultaneously taking place outside the Capitol.
The new tablet, which Cook said was "the biggest news in iPad since the iPad," starts at $800 and has a ten-hour battery life. A new smart keyboard — which attaches to the "Super iPad" — was also revealed.  
Another announcement at the event sent tech types to their smelling salts, fearful that Steve Jobs, patron saint of Apple events, would return to smite them all for failing to obey his wishes: the $99 Apple Pencil, a digital stylus one Apple executive called "absolutely amazing." Twitter instead pointed out that Jobs had made fun of styluses. 
Others were upset over a moment when Apple showed off the new iPad Pro's skills by Photoshopping a woman's smile. The model whose smile was "fixed" was the first woman to appear on the stage for today's event.
Apple also announced a gamer-friendly updated Apple TV, which will come out in October and cost $150, and new colors for the Apple Watch — like rose gold — and watch bands, designed by Hermès. The new iPhones — iPhone 6S and iPhone 6S Plus — will be available in rose gold, gold, silver, and space gray and will have the "3D Touch" feature already available on the Apple Watch. 
The new iPhone features an even better camera — 12 megapixels — and the ability to shoot in HD; the last iPhone camera had eight megapixels. And people will be able to make GIF-like photos with the new iPhone — Apple calls them "Live Photos." 
The cheapest version of the new iPhone, starting at 16GB, will cost $199 with a two-year contract.
The last announcement concerned a new plan that gets subscribers a new iPhone every single year. If you sign up for the iPhone Upgrade Program, which costs $32 a month, you get a new unlocked iPhone annually, AppleCare, and the option to choose any phone carrier you want.