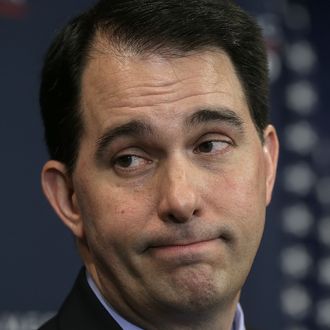 Photo: Win McNamee/Getty Images
It is the Friday before a three-day weekend — the perfect time for BBC Magazine to tackle one of the most pressing questions of the 2016 presidential race: Why does Scott Walker have a bald spot? Was it Colonel Cabinet Door with the brute force in the kitchen? Or is he just going bald? The BBC decided to consult an expert — Spencer Kobren, founder of the American Hair Loss Association (which has a homepage filled with images of sad people thinking deeply about hair loss) and host of the radio show "The Bald Truth" (which, according to its website, has "developed cult-like status among men ages 18 to 35 and beyond seeking advice on 'Sex, Life and Hair Loss'").
"It would have to be a pretty significant trauma — a severe blow to the head," Kobren told the BBC. He concluded that there was compelling evidence that Walker was just going bald. 
Kobren says that "the only way to definitively determine if" the balding was the result of an injury "would be to do a biopsy," which means this mystery will probably only be solved if the Wisconsin governor gets so close to Donald Trump — the original muse for all election-minded hairdo-spiracy theorists — in the polls that the front-runner starts demanding Walker release his long-form bald-spot biopsy certificate to the public.