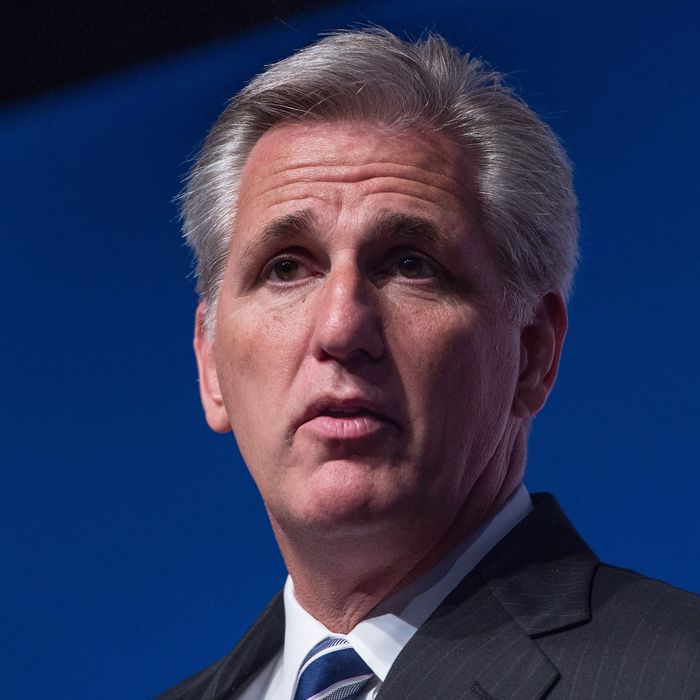 Did Kevin McCarthy spill the beans?
Photo: Nicholas Kamm/AFP/Getty Images
Representative Kevin McCarthy, the odds-on favorite to be our next speaker of the House, credited the Select Committee on Benghazi for sinking Hillary Clinton's poll numbers on Fox News last night. Did he suggest that the committee was created specifically for that purpose? That's one interpretation! In any case, Democrats are furious. 
"Everybody thought Hillary Clinton was unbeatable, right? But we put together a Benghazi special committee, a select committee, what are her numbers today?" McCarthy asked Sean Hannity. "Her numbers are dropping, why? Because she's untrustable. But no one would have known any of that had happened."
Liberals are claiming McCarthy's comments reveal the truth about the GOP's search for "the truth about Benghazi" — that the House's 16-month-long investigation into the attack was simply an elaborate ploy to weaken Clinton's candidacy.
"This stunning concession from Rep. McCarthy reveals the truth that Republicans never dared admit in public: the core Republican goal in establishing the Benghazi Committee was always to damage Hillary Clinton's presidential campaign and never to conduct an even-handed search for the facts," the committee's ranking Democrat, Representative Elijah Cummings (D-Md.), said in a statement. 
But as the Washington Post's Greg Sargent notes, McCarthy's statement is not quite the straightforward confession Cummings makes it out to be. While McCarthy may come off as distastefully focused on the investigation's political effects, there is a less conspiratorial way to interpret his words — namely, that the Benghazi investigation hurt Clinton precisely because its revelations were substantive. McCarthy's spokesman later said that the remark simply referred to the committee's work in bringing damaging information to light.
That said, exactly what McCarthy means by "any of that" is none too clear. In an interview with CNN, McCarthy lauded the committee for helping to expose Clinton's use of a private email server while secretary of State. But the Benghazi committee has yet to find any emails pertinent to Clinton's role in the embassy attacks. And the GOP-led House Intelligence Committee's investigation into Benghazi cleared the Obama administration of any wrongdoing back in November of 2014.
The Select Committee on Benghazi plans to release its final report sometime next year. As of today, the committee has spent $4.5 million.