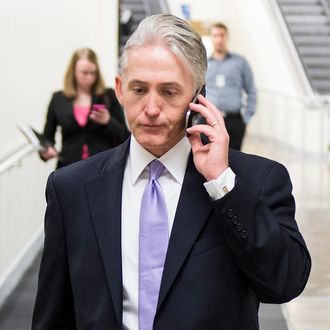 Chairman Trey Gowdy
Photo: Bill Clark/CQ Roll Call
Hillary Clinton will testify before the House Select Committee on Benghazi on October 22, but the panel has hit another big milestone before that date simply by existing. As of Monday, this Benghazi committee, which assembled in May 2014 to further look into the 2012 attacks on the American embassy, is one of the longest special congressional investigations* in history after clocking in at 72 weeks.
The Select Committee on Benghazi just surpassed the Senate's committee to investigate Watergate. That panel, which convened in 1973, helped unearth the secret White House tapes, led to the indictments of several administration aides, and spurred impeachment proceedings leading to the resignation of President Nixon. Benghazi, sometimes misconstrued as the committee to investigate Hillary's emails, has, by contrast, held three hearings and interviewed 29 witnesses as of June 2015 at a total cost of $4.5 million.
Republicans defended their investigation — the eighth probe into the 2012 ambush, though the previous ones failed to turn up any White House cover-up — and blamed the Obama administration for failing to cooperate. South Carolina Republican Trey Gowdy, who leads the committee, had said on the September 11 anniversary of the attacks that "[w]hile much outside attention has been paid to the former Secretary [of State Hillary Clinton], this investigation has never been about her and never will be. It is about our four fellow Americans murdered three years ago, and ensuring we provide answers for their families and loved ones."
The top Democrat on the committee, Elijah Cummings, called the investigation "a political punchline," and other Democrats have echoed that sentiment, calling for Congress to just end it, please. 
Yet with Clinton's testimony now a little less than a month away, it's safe to assume the House Select Committee on Benghazi will keep on keeping on for a while. And even if one day the committee issues a report and disbands, Politico reports that the House is toying with the idea of forming a committee to probe Planned Parenthood, proving the adage that for every congressional investigation that dies another will grow in its place.
* This post originally stated that the House Select Committee on Benghazi was the longest congressional special investigation in history. Sources have since disputed that claim, and we have corrected this piece to reflect those updates.