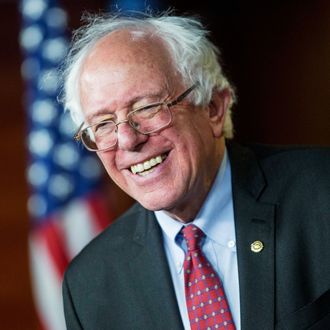 Photo: Andrew Harrer/Bloomberg via Getty Images
The campaign of Democratic presidential hopeful Bernie Sanders said it received its millionth individual donation on Wednesday. He becomes the first presidential candidate from either party to reach that threshold in 2015. But with an average contribution of less than $25, he's still raised far less than Hillary Clinton.
The campaign made its announcement, just hours before the end of the third quarter of fund-raising, on the Sanders for President subreddit — by far the largest subreddit affiliated with any 2016 candidate, with 110,000 members. Sanders eschews super-pac fund-raising, instead depending on many small-dollar donors. Many are social-media savvy, and their steady stream of shareable memes has gifted the 74-year-old with a pervasive Facebook presence.
Reaching 1 million donations by the third quarter's end had been one of the Sanders campaign's chief goals in recent days.
"This deadline is an opportunity to send a powerful message to the political media and the super PACs attacking us about the strength of our campaign," the campaign messaged supporters on Facebook. "Let's make sure they hear us loud and clear."
What should not be lost amid the din: the fact that last week the average donation to the Sanders campaign was $24.86. The average donation to Hillary Clinton's rival campaign in the second quarter of 2015 was $145. Of course, she's the front-runner.
Coincidentally, U.S. PIRG, the federation of state Public Interest Research Groups, released a report on Wednesday showing that if the federal government provided a system of public matching funds for small donors — as New York City's government does for its municipal elections — Sanders's campaign would have more cash on hand than Clinton's. As it is, Sanders's army of politically enthused Redditors is no match for his rival's big spenders: Clinton raised $45 million in the second quarter, while Sanders took in just $15 million.