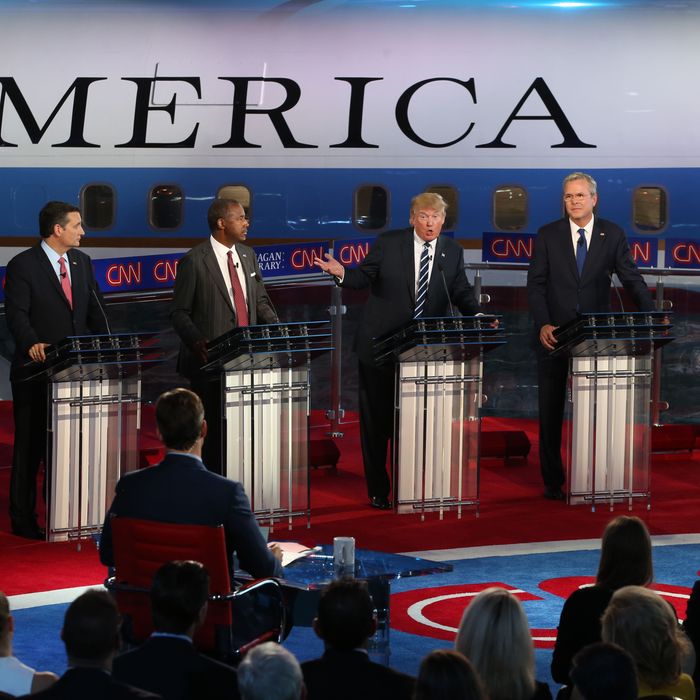 The GOP candidates debate in the Ronald Reagan Presidential Library on September 16, 2015.
Photo: Justin Sullivan/2015 Getty Images
If you're a political junkie aching for hot takes, go ahead and sift through the hundreds of morning-after columns on the GOP debate. But if you want to know who actually won, better to consult the internet's gambling addicts than its armchair pundits.
PredictWise — a site that calculates the probability of various events based on aggregated betting market odds — outperformed most pollsters and pundits in the 2012 presidential election, correctly predicting the outcomes in 49 of 50 states. Here's who, as of 4:30 p.m. Thursday, the free-market gods think won and lost last night's debate.
Winners:
The two candidates to significantly improve their market valuation post-debate were former Hewlett-Packard CEO Carly Fiorina and longtime odds-on favorite Jeb Bush. Even as Bush's poll numbers have declined, he's maintained a commanding lead in the markets – one that only grew after last night's face-off at the Reagan Library.
PredictWise now considers Fiorina the fourth-most-likely person to be the party's standard-bearer — not bad for a candidate that couldn't even crack the top ten in national polls less than a month ago.
Carly Fiorina:  +4 percent to 10 percent
Jeb Bush +4 percent to 39 percent
Marco Rubio +2 percent to 17 percent
Losers:
The betting markets saw a bunch of losers on last night's debate stage. Trump entered the Reagan Library leading the field in national polls. The Donald's polling strength allowed him to stay at the back end of the lead pack, but his "low-energy" performance hurt him among bettors. Likewise, the markets seemed to view the debate as a missed opportunity for both Scott Walker and John Kasich. The Ohio governor's odds had ticked up in recent weeks, as Bush's flagging poll numbers seemed to open up space for another moderate from the party's Establishment.
Walker -2 percent to 4 percent
Trump -2 to 13 percent
Ben Carson -1.5 percent to 6 percent
Kasich -1 percent to 4 percent
Also-Rans:
Huckabee, Cruz, Christie, and Paul moved little — all had probabilities of less than 5 percent before the debate and stayed roughly where they were. Cruz leads this crew with a 4 percent chance, Huckabee's at 2 percent, while Christie and Paul both stand as 1-to-100 long shots.