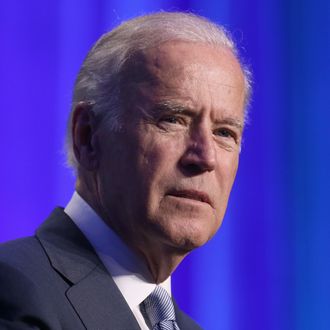 Photo: Chip Somodevilla/Getty Images
Did you wake up this morning and ask yourself, "Is Joe Biden running for president?" If so, the answer remains: Nobody really knows, including Biden himself. In an interview with Catholic news organization America Media, Biden said he's still struggling to figure out whether he and his loved ones are prepared to handle a campaign in the wake of the death of his 46-year-old son, Beau.
"You have no right, as an individual, to decide to run. Your whole family is implicated, your whole family is engaged and so, for us, it's a family decision. And I just have to be comfortable that this will be good for the family," said the vice-president. "In the past, all our political efforts have actually strengthened the family. It's not quite there yet and it may not get there in time to make it feasible to be able to run and succeed because there are certain windows that will close. But if that's it, that's it. But it's not like I can rush it."
For what it's worth, a recent report said Biden's wife, Jill, would "of course" be "on board if her husband decides to run." Still, it could be a while before the vice-president feels forced to make a final call. Though his staffers initially indicated that he'd have a decision by the end of the summer, we're now well past Labor Day and only two days away from the official beginning of autumn. Another possible deadline might be the first Democratic primary debate on October 13, but Biden technically has until this spring to announce that he's getting into the race.