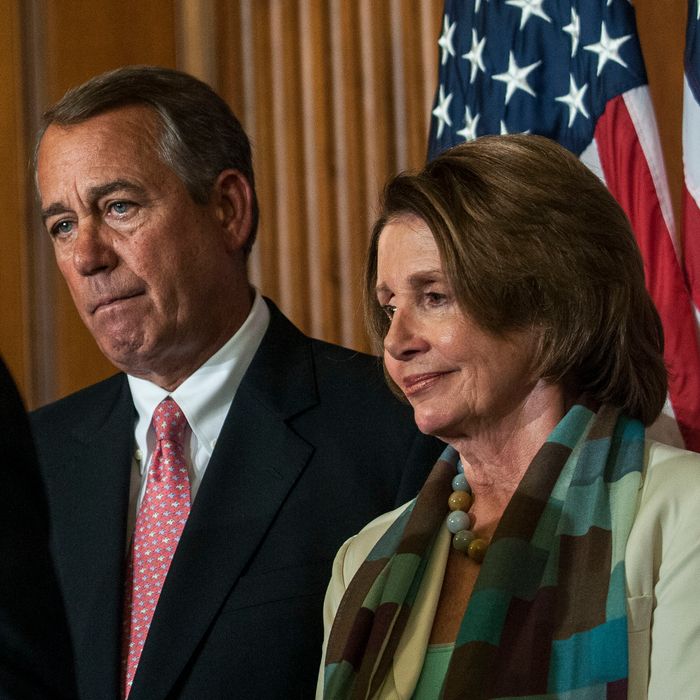 John Boehner and Nancy Pelosi attend the bipartisan signing of the Medicare Access CHIP Reauthorization Act 2015 on April 16, 2015 in Washington, D.C.
Photo: Gabriella Demczuk/Getty Images/2015 Getty Images
With Congress no closer to passing a budget resolution than it was last week, House Speaker John Boehner and Minority Leader Nancy Pelosi held a meeting after hours on Thursday to discuss how to negotiate an end to the standoff and avert a government shutdown. Making good on threats to escalate their war against Planned Parenthood over videos purporting to show that it profits from the sale of fetal tissue, a group of 31 conservative Republicans are refusing to support any budget bill that does not completely cut off the $500 million the organization receives in federal funding. Planned Parenthood acknowledges that it's reimbursed for the cost of collecting and transporting fetal cells and tissues, which is not illegal, and denies any wrongdoing. The organization provides an array of women's health services, including abortions, which federal funds cannot pay for.
Boehner, who must be tired of having this fight with his party's right flank year after year, will have to act quickly to pass a budget before the government runs out of money on September 30. Accordingly, Politico reports the House Republican leadership also gave Boehner "martial law" authority on Thursday, which will allow him to fast-track a bill from the Rules Committee to the House floor on the same day. Democrats protested the move; instead, they want the speaker to keep the House in session continuously until a deal is done (its current schedule includes only six more working days before the end of the month).
Meanwhile, Republican leaders are in talks with the bloc of staunch conservatives, who call themselves the House Freedom Caucus, over possible alternatives to a blanket defunding measure, which would not survive a promised veto by President Barack Obama. One option being considered is to cut Planned Parenthood's funding only if the group is found to have committed a crime (several state investigations have found no evidence of criminal wrongdoing). It's not yet clear, however, whether any of these alternatives is feasible.
Not all of the GOP's right wing is down to shut down, by the way. California representative Tom McClintock resigned from the House Freedom Caucus on Wednesday citing his colleagues' "willingness — indeed, an eagerness — to strip the House Republican majority of its ability to set the House agenda by combining with House Democrats on procedural motions." Wisconsin senator Ron Johnson has suggested investigating Planned Parenthood (which, again, hasn't accomplished much so far) rather than risk shutting down the government in order to take away its funding.
Also on Thursday, Federal Reserve chair Janet Yellen issued her own appeal to Congress to pass a budget. During a press conference to announce that the Fed would not raise its benchmark interest rate, she warned that a government shutdown would set back the economy's recovery. "To see Congress take actions that would endanger that progress — I think that would be quite unfortunate," she said.
Democratic presidential candidate Hillary Clinton zeroed in on the potential economic impact of a shutdown as well, accusing Republicans of putting "our country and our economy in peril pursuing some kind of emotionally, politically charged partisan attack," in an interview on Thursday. Democrats generally expect to come out looking good from a fight to protect Planned Parenthood's federal funding, which most Americans support, even in light of the recent controversy.