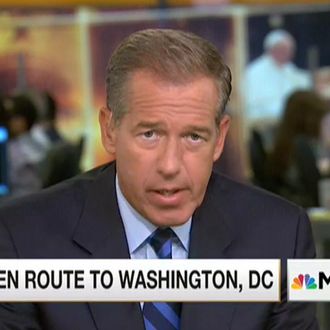 Brian Williams, who was suspended without pay from NBC Nightly News for six months after news of his journalistic tall tales broke in February, returned to MSNBC on Tuesday as a breaking-news anchor. His first big story? The impending arrival of Pope Francis.
"And good day, I'm Brian Williams in New York," he began.
Williams did not acknowledge the fact that he had been away for months when he returned to TV this afternoon, perhaps hoping everyone had forgotten why he had disappeared in the first place — or confident that the moms, grandpas, and other assorted TV-news watchers of America would forgive him. 
Over the last seven months, Williams has hardly been seen — except for one short interview with Matt Lauer in June. He called the months and months of controversy "torture" and said he originally "pushed back" against his demotion to MSNBC. "Was it my first choice? No. Obviously I wanted to return to my old job." Lester Holt is now the anchor of NBC Nightly News.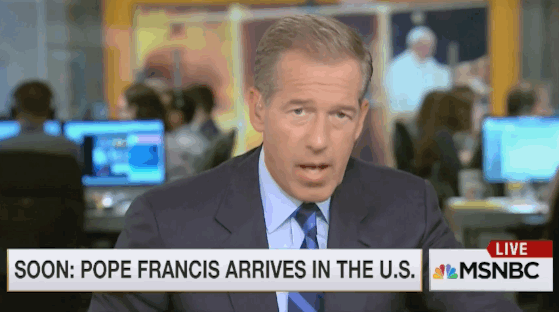 MSNBC hopes that the once-respected anchor will help the channel's lackluster ratings, although CNN reports that some people fear Williams could make things even worse.
NBC News and MSNBC chair Andrew Lack, who returned to his former role as NBC news head after the scandal, told the Washington Post that Williams spent part of his involuntary vacation touring the United States alone in a car. "He did some reflecting. It was a quiet and private time." 
It's not clear what kind of news Williams will tackle after the pope leaves; if he covers the 2016 presidential election, there is probably one person who won't be too keen to talk to him.