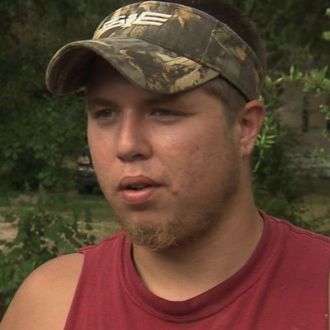 Joseph Meek
Photo: ABC News
The ongoing investigation into the massacre at a historic black church in Charleston has led to the indictment of a friend of alleged gunman Dylann Roof. Joseph Meek Jr. is accused of lying to the police about the June 17 shooting at the Emanuel African Methodist Episcopal Church and withholding details about the attack from investigators.
The 21-year-old Meek was a childhood friend of Roof's, and he had let the suspect crash on his couch in the days leading up to the shooting. Meek denied having specific knowledge of Roof's plans, but in the indictment, federal authorities — without mentioning specifics — assert that "Meek's statements and representations denying such specifics were false."
Meek did say the day after the murders that Roof had admitted to him that he wanted "to hurt a whole bunch of people." He added that Roof one night had talked about "how the races should be segregated, that whites should be with whites. I could tell there was something inside him, there was something he wouldn't let go. I was trying to tell him, 'What's wrong?' All he would say was that he was planning to do something crazy." Meek claims he thought his friend was joking but, according to reports, still briefly took away Roof's .45-caliber pistol (before giving it back over concerns about being on probation). 
Meek pleaded not guilty to the charges during a court appearance early Friday. Before his arrest, Meek — who knew he was a target of a federal investigation in connection to the Charleston tragedy — told South Carolina newspaper The State, "I'm looked at like a criminal because of his actions." Meek added that the only thing he was guilty of was trusting Roof, who has been charged with nine counts of murder and 33 federal hate-crime charges.