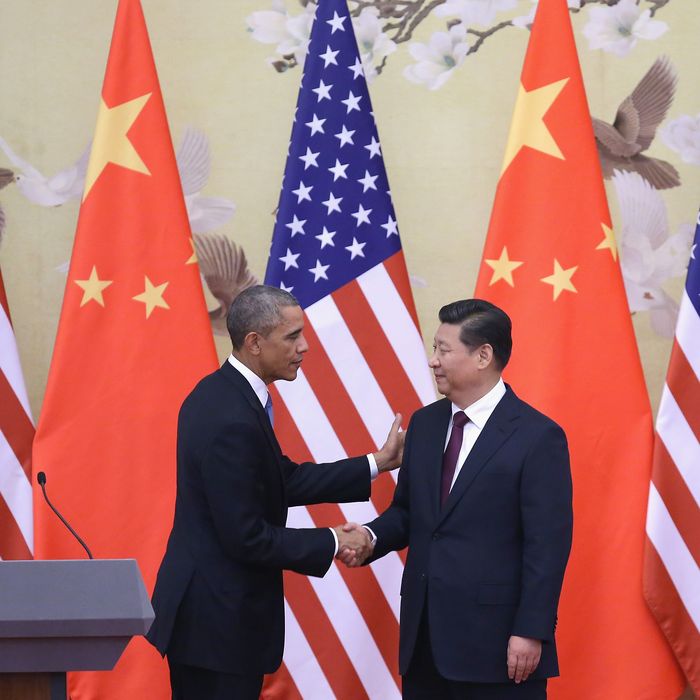 President Obama shakes hands with Chinese President Xi Jinping after a joint press conference on November 12, 2014 in Beijing, China.
Photo: Feng Li/2014 Getty Images
As Chinese president Xi Jinping flew from Seattle to Washington on Thursday for his first state visit to the U.S., the Obama administration revealed that Xi will announce a national cap-and-trade program to limit carbon emissions during his summit meeting with President Obama on Friday. According to the New York Times, the program will begin in 2017 and is part of a major agreement between Washington and Beijing to take the lead in tackling climate change on the world stage.
Friday's joint announcement has been in the making for nearly six months, and builds on the landmark deal announced in Beijing last November, in which both countries pledged to drastically curtail their carbon consumption over the next ten to 15 years. Xi's announcement is also expected to explain how he plans to meet China's goal of reaching peak emissions by 2030.
The culmination of all this climate diplomacy is to come in December, when world leaders will gather in Paris for the U.N. Conference on Climate Change and attempt to hammer out a global agreement on emissions reductions. A standing agreement between China and the U.S.— the world's largest economies and largest polluters — will make that deal easier to sell to the rest of the world.
Congressional Republicans hate the very notion of international accords to deal with what they believe is a fake problem invented by a vast conspiracy of scientists. There's no telling what they will make of Friday's announcement. However, as Politico notes, China's unwillingness or inability to curb its emissions has been a key talking point for Republicans hostile to climate action — one that Friday's announcement may render moot.
In fact, it already was: China made strides this year in cutting down on the amount of coal it burns and is investing heavily in clean-energy technologies. These steps away from its dependence on coal, the dirtiest of all fossil fuels, are already making a small but significant impact on China's emissions, which actually fell last year by 2 percent.
From the story China experts were telling just a few weeks ago, Xi's visit was supposed to be a bit of a dud, with little hope of progress on any of the major issues in Sino-American relations. That narrative has just gone out the window.