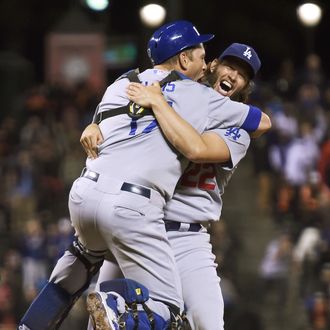 Clayton Kershaw celebrating, last night.
Photo: Thearon W. Henderson/Getty Images
The N.L. East–champion Mets officially know their opponent: The Dodgers clinched the West division crown last night, and the teams will now spend the next five days angling for home-field advantage in the NLDS. Los Angeles's clinch last night gave the Mets a look at what they'll be up against when the first round kicks off next Friday: Clayton Kershaw threw a masterful one-hitter against the defending-champion Giants as the Dodgers won 8–0 to secure their third straight N.L. West crown.
Los Angeles's rotation features two of the best pitchers in baseball in Kershaw (who leads the league with 294 strikeouts) and Zack Greinke (who has a league-best 1.68 ERA). However the Dodgers decide to set up their rotation, the Mets can expect to face Cy Young candidates back-to-back in Games 1 and 2. But since Kershaw is more likely to pitch on short rest in the playoffs than Greinke, he's likely to get the Game 1 nod. And last night's performance was a pretty good example of what he's been up to lately.
In the season's second half, he's 10–1 with a minuscule 1.36 ERA and two complete-game shutouts. His WHIP, or the combined number of walks and hits per inning pitched, is just 0.726, which is off-the-charts outstanding. That said, Mets fans can find at least a bit of encouragement in this: After Kershaw's 2014 regular season, for which he won both the Cy Young Award and the MVP, his start in Game 1 of the playoffs was lousy. He allowed eight earned runs in six and two-thirds innings to the Cardinals and took the loss — the first of two he'd be credited for in the series.