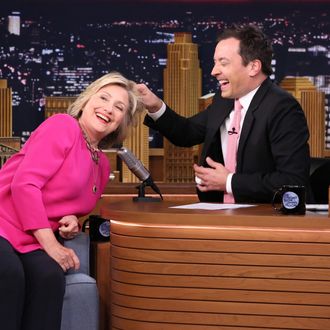 Hillary Rodham Clinton during an interview with Jimmy Fallon.
Photo: NBC
Last night was a 2016 marathon: Right after the five hours of Republican debates ended, Jimmy Fallon began to interview Hillary Clinton.
She seemed to enjoy the experience far more than any of the GOP candidates enjoyed the debate.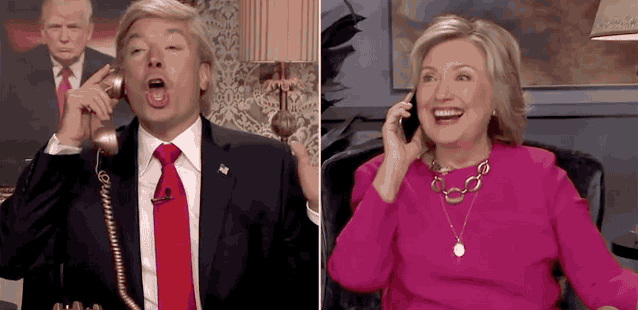 She didn't even seem to mind talking about her emails — although talking to a late-night host about current controversies is probably always going to be more like a day at the spa than a press conference with political reporters. 
"They're boring," Clinton said, while allowing that her gefilte-fish missive was her true masterpiece. "They're kind of, what are we doing, how do we do it." She reiterated that she believed all the classified emails being made public were classified retroactively — and did not contain top-secret information at the time the emails were sent — something currently being investigated. Clinton added, "And the stuff that's in it, I think, is really boring people, which kind of hurts my feelings, to be honest!"
During another conversation about social media, the presidential candidates expressed wonder at how much of a "pro" Kim Kardashian is at "the selfie deal"; Clinton and Kardashian snapped a photo together after the first Republican debate. 
Fallon also asked Clinton to sum up her campaign with one issue or target, noting that Donald Trump has immigration and Bernie Sanders has big business. "Raising Americans' incomes," she said. 
Fallon also put on his Donald Trump wig to conduct another interview with Clinton; he told her that she sounded like a robot, and asked her how she planned to help women. She said she had been helping women her entire life, and turned the question back to fake Trump. "Look, I know a lot of women, and they all have issues."
In case you felt there wasn't enough Trump-inspired fodder in the exchange, Clinton later let Fallon pull on her hair to see if it is was real.