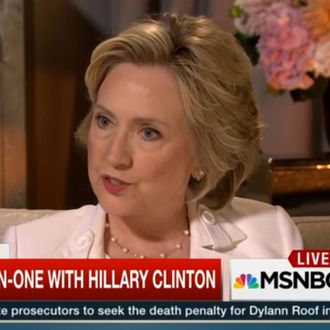 MSNBC's Andrea Mitchell — who has been reporting on Hillary Clinton for a long time — sat down with the Democratic presidential candidate for a rare interview, in which she asked Clinton all the questions that have piled up since her last big television appearance in early August. 
Obviously, the nearly 30-minute interview included a lot of questions about the personal email account Clinton used at the State Department. Mitchell repeatedly asked Clinton if she was sorry that she had used the email account. Clinton's remorse was mostly directed at the hell the email hath wrought instead of the fact it existed. "At the end of the day, I am sorry that this has been confusing to people and has raised a lot of questions, but there are answers to all these questions," she said. "And I take responsibility and it wasn't the best choice."
She also defended the server, saying it was "allowed" and that "the people I was emailing to on the dot gov system certainly knew" of the personal account. Clinton also said she wished the emails were being released faster; the last batch — which offered yet another look at the less than exciting conversations inspired by bureaucracy — was published Monday.
Cheryl Mills, Clinton's chief of staff at the State Department, testified in front of the House Benghazi Committee Thursday. The panel had questions about the email account — most of which Mills probably had no answers for given that she didn't have a security clearance. Another aide testified today. Clinton is scheduled to appear before the committee in October. 
Mitchell also asked Clinton about a recent Quinnipiac University poll that shows that the top two words that come to voters' minds when they hear the words "Hillary Clinton" are "liar" and "dishonest."
"Certainly, it doesn't make me feel good," she said.
When asked about Trump, she said that he is "great at innuendo and conspiracy theories and really defaming people."
In the softball section of the interview, Clinton said she loves swimming, chocolate, House of Cards, sleep, and … email.
The interview took place a day before the 20th anniversary of Hillary Clinton's U.N. speech in Beijing, where she famously said, "It is time for us to say here in Beijing, and the world to hear, that it is no longer acceptable to discuss women's rights as separate from human rights. Human rights are women's rights … and women's rights are human rights."
"It feels like it was yesterday," Clinton told Mitchell. "Twenty years later, I would say this — women and girls have made progress in health, in education … but if you look at economic rights and participation, political rights and participation, security and conflict, we have a lot to do."
Mitchell also reported on the U.N. speech. As Erik Wemple at the Washington Post pointed out yesterday, Mitchell said at the time of Clinton's pointed criticism of China's policies toward women, "For a first lady, it is highly unusual to deal even indirectly with superpower diplomacy, especially at a time when relations with China were just beginning to thaw."
Mitchell and Clinton last talked about women's rights during the 2012 presidential race. When the NBC reporter asked the secretary of State if she planned on running for president in the future, Clinton said, "It's all very flattering. But I am not at all planning to do that. I have no desire or intention."