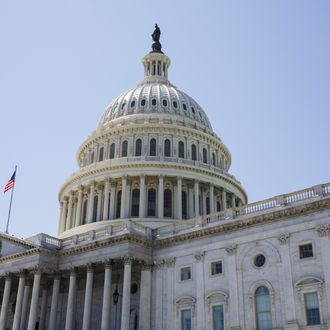 The U.S. Capitol Building.
Photo: James Leynse/Corbis
The government-shutdown drama came to an anticlimactic end on Wednesday when the House passed a temporary-spending measure just hours before the midnight deadline. The vote was 257 to 151, with all Democrats and 91 Republicans approving the measure. Angry House Republicans did manage to make one pointless gesture: They approved a separate resolution to end federal funding for Planned Parenthood, which has no chance of passing in the Senate. The spending bill, which was signed by President Obama, only keeps the government funded through December 11, so stay tuned for more absurd congressional brinkmanship.