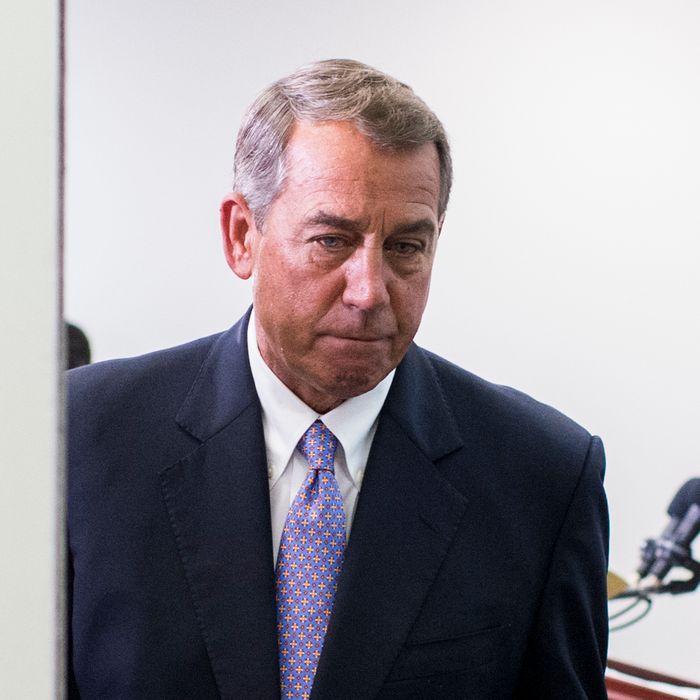 John Boehner leaves the House GOP leadership press conference following the House Republican Conference meeting on September 9, 2015.
Photo: Bill Clark/CQ Roll Call
After a five-week recess, House Speaker John Boehner launched his effort to avert a government shutdown on Wednesday, but made it clear that the GOP leadership has yet to come up with a plan. When we last checked in with America's least-favorite branch of government, Senate Republicans had made a failed attempt to defund Planned Parenthood, but vowed to continue the fight in the fall. Following claims that Planned Parenthood is selling aborted fetal body parts (which the organization denies), 31 conservative Republicans have pledged to vote against any funding resolution that includes money for Planned Parenthood (though by law federal money can't go toward abortions).
The government is set to run out of money on September 30, and at a private House Republican Conference meeting on Wednesday morning, Boehner warned his colleagues that allowing a government shutdown won't actually cut government funding to Planned Parenthood or end fetal-tissue donations. Boehner said there's "widespread support" among House Republicans for a stopgap measure that would keep the government funded through December, but he didn't rule out attaching language to defund Planned Parenthood. "I have not made any decisions," Boehner told reporters, according to the Washington Post. "No decisions at this point."
Senate Majority Leader Mitch McConnell has said that there's no chance of passing such a measure in the Senate, as Republicans lack the votes to overcome a Democratic filibuster or a presidential veto. But Senator Ted Cruz, who instigated an unsuccessful shutdown over Obamacare in 2013, is forging ahead anyway. CNN reports that Cruz has invited several far-right Republicans to his office for a strategy session on how to stand up to the party leadership on Planned Parenthood, among other issues.
Boehner said GOP House leaders will hold their own "listening sessions" in the coming days to get feedback from members on how to tackle Planned Parenthood. Aside from attaching a defunding provision to a funding bill, options include voting on a separate measure to cut Planned Parenthood funding or withholding taxpayer money until Congress has investigated the organization's activities. Or the GOP leadership can try to convince members to give up on legislative options and focus on the ongoing hearings on Planned Parenthood.
But it's likely that once again, Boehner will be forced to work with Democrats to avoid a shutdown. Many Democrats are convinced that a showdown over women's health will benefit their side, and on Wednesday House Minority Leader Nancy Pelosi made it clear that she isn't going to capitulate to Boehner just because it's good to keep the government functioning. She told reporters that Democrats won't support any measure that targets Planned Parenthood, and in exchange for passing a funding bill, she wants to renegotiate sequestration cuts.
As is often the case, there's talk that Boehner may soon lose his speakership, and colluding with Democrats rather than taking up the shutdown fight might not help his cause. "If a small group of members want to try and take out the Speaker simply because he's unwilling to shut down the government and ultimately damage the pro-life cause," a House GOP aide told The Hill, "that's a pretty sad commentary on their mindset." But it may also be an accurate one. And with some predicting Boehner is about to face the biggest threat to his speakership, this time he may be willing to wage a fight over Planned Parenthood even if he knows the GOP can't win.