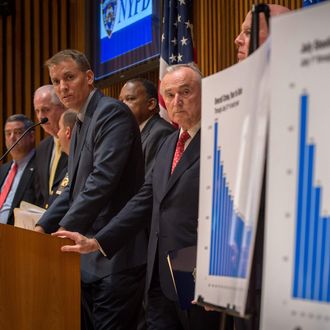 Photo: Bryan Smith/ZUMA/Corbis
The NYPD announced on Wednesday that this summer was the safest New York City has seen in years, according to its data. From June 1 to August 31 there were 82 murders and 345 shootings. Police officers arrested 41,000 fewer people. Commissioner Bill Bratton said on Morning Joe Tuesday, "Ironically, New York City this past summer, June to end of August … this was the safest summer we've had in 25 years in terms of shootings and murders." However, thanks to an uptick in murders at the beginning of the year, the homicide rate for 2015 is still up 6 percent from last year. There has also been a 5 percent increase in incidents of rape. Major felony crime is down 4 percent overall.
Although crime has mostly remained at historic lows, residents still have said they don't like the way Mayor Bill de Blasio deals with crime; a Quinnipiac University poll from last month revealed that 40 percent of voters approve of how he's handled crime. Fifty-three percent of voters approve of how the NYPD is doing; however, only 35 percent and 40 percent of black and Hispanic voters, respectively, think the police are doing a good job. 
Many of de Blasio's opponents have chastised him for crime as well — despite the fact that, as The Wall Street Journal points out, "[d]uring the first eight months of this year, shootings are lower than nine of the last 10 years." New Jersey governor Chris Christie told Fox News, "Listen, folks should not be surprised that when they elect folks like Bill de Blasio in New York City, who ran an entire campaign that was anti-police, that now we have a significant increase in crime. But worse than that, I'm in here a lot, you all work here, you walk around the city, it's a different feeling in the city than it was the last 20 years." When asked what de Blasio should do, Christie — who has 2.5 percent support in the Republican presidential primary at the moment — said the mayor "should back away from his campaign trail rhetoric and 'do' his 'job,'" as the Observer paraphrased.