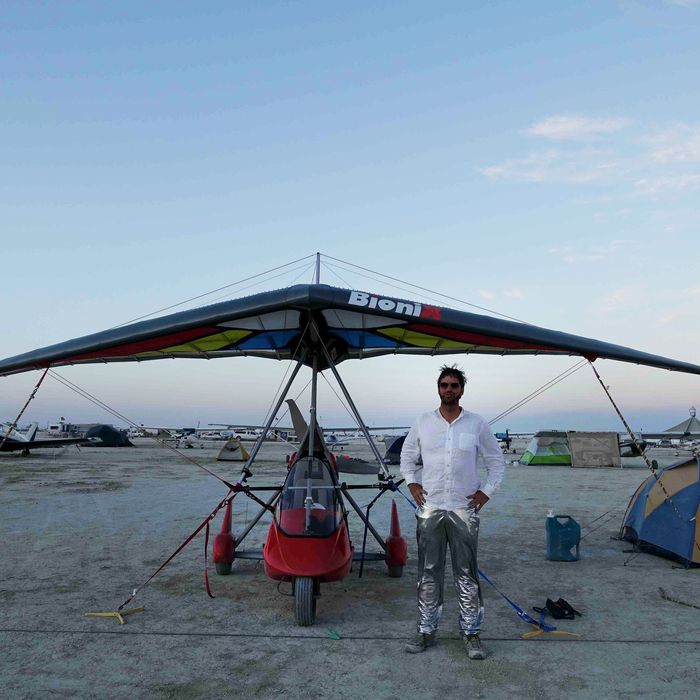 Agent Jake and his "trike"
Photo: Nellie Bowles
Landing his prop plane back on the dusty playa at Black Rock City Airport, pilot Adam Stites — a big guy who goes by Agent Panda at Burning Man — saw a charter jet parked on the taxiway.
"You know, it's bad enough I see all these pretty people coming in with their high heels, then you gotta go park in the taxiway!" said Stites.
The offending passengers — the men in button-down shirts disembarking with rolling suitcases and the women running ahead in underwear bottoms and furry footwear — smiled and waved at us.
Airport Camp is a half-mile dirt road beyond the rest of Burning Man — past the dense tent towns of Black Rock City, past the outlying luxury camps, past the hermits who pitch their tents alone on the desert floor next to the unpaved runway area. Down a long unlit road, Airport Camp is a Burning Man unto itself where around 50 crusty private pilots and fans live and fly.
When I arrived one evening earlier this week, the lines of people waiting for free joyrides had left, and pilots were having their nightly "drunk pilots" session. They poured beers from a tap that was decorated to look like a dog peeing beer. Many of them never go into the city at all. They have their own desert hobbies. They watch for people who try to sneak through the fence. They have a burn barrel for nightly fires. They fly to visit nearby towns and make "vegetable runs" to Reno, which is about a half-hour away. And at the end of the week, they have their own big burn, lighting their giant wood seesaw on fire.
But as the vehicle line into Burning Man grows into a five-hour bottleneck, the private-charter-flight market is booming, and the airport community of volunteers and separatists is feeling the strain. A few years ago, a couple hundred people came by plane — now it's more than 3,000. Those who arrive by charter jet — who Burners often call Sparkle Ponies for their elaborate costumes and impractical packing — pay between $500 to $2,500 for a trip, depending on the plane and distance.
Everyone who works at Airport Camp has a celebrity story: Larry Page crashed at Airport Camp for a week in 2008, one guy said. They'll tell you about Mick Jagger and Bill Gates landing. Someone said Elon Musk's helicopter cut him in line one year. Many claim to have seen Lady Gaga today. And like much of Burning Man, there's a growing community divide, between private pilots (who own their own planes — old propeller models, typically — and pride themselves on giving away free rides) and the new charter pilots — a growing tension between a radical counterculture and an internationally popular music-and-art festival now on the Cannes-Davos circuit.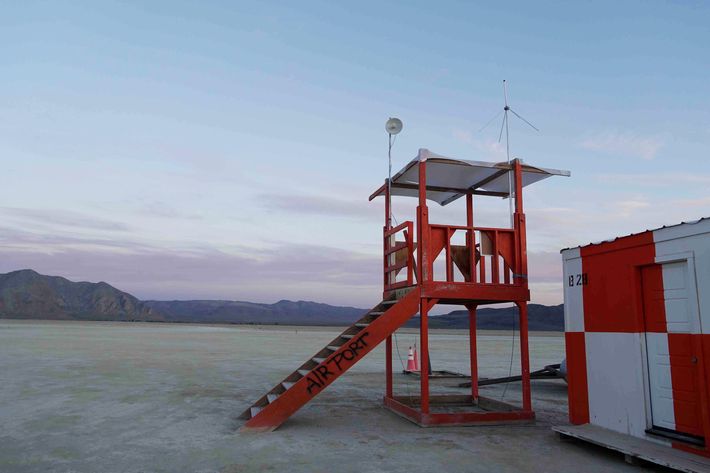 "You know what the prop guys call the jet guys?" a pilot named Kayak told me. "Cocksuckers."
Oh, because it's like a play on cockpit?
"No, because they're assholes," he said.
A young man named Agent Jake, who wore silver Betabrand pants and flies an open airplane called a Trike, typifies the old aesthetic. "I live here, I sleep by my plane," he said. Sure enough, his tent was propped up nearby.
It's not easy to land at Black Rock: The Sierra Mountains loom over the desert. It gets hot. It gets turbulent. The playa runway is soft and bumpy. In fact, there aren't distinct runways. Recently, a brand-new Cirrus plane was wrecked on the runway after trying to take off three times, eventually crashing.
The charter pilots often don't have tickets to Burning Man — meaning they're not allowed in. They tend to stay in a cordoned-off pen by the runway. For them, traffic gets insane on Thursday night and again on Sunday. Flying in and out can be a challenge for pilots who are more accustomed to runways and control towers.
"We have a couple chevrons on the ground, and people are always like, 'Where's the runway?'" Agent Jake said. "It takes a special mentality coming in here."
The camp pilots set high goals for themselves. They sometimes fly to nearby towns to pick people up and bring them to Burning Man. They're trying to form an LLC for Black Rock Travel Authority to gain some power and independence over their area. (They're fond of calling the rest of Burning Man "Afghanistan.")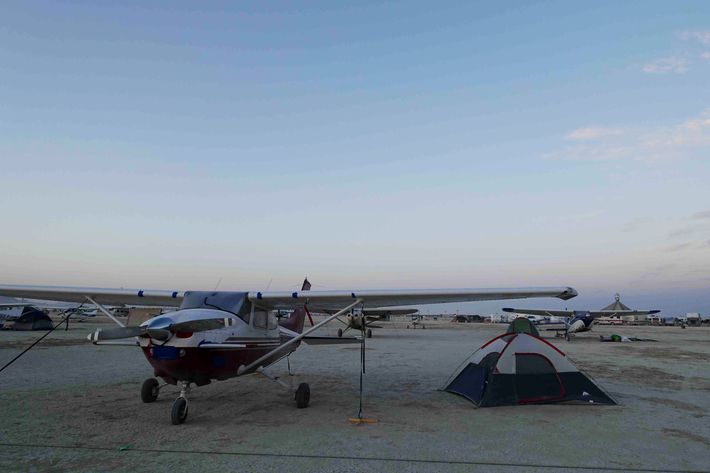 The airport community was founded around the same time as Burning Man but somewhat separately. A pilot named Agent Nation, who lives in Grass Valley, just across the border in California, was out in the desert with his brother doing geology work when he saw a group of a few hundred people camping. He started camping with them. In the olden days, when daylight activities at Burning Man centered on riding in trucks and shooting at things, pilots would taxi up to their campsites, but soon they founded their own city outside of town.
Separatism runs deep in the pilots' village, and they see the rise of fancy camps as a natural response to the rise of wealth in San Francisco.
"Our growth obviously is tied with the turnkeys" — that is, the fancy camps pre-built for rich attendees — "but you know, everything that happens here is whatever the hell you want," Agent Salvage said. "If you want to spend $10,000 and bring a bunch of models to serve drinks, then you do that."
As we were talking, a group of skydivers — naked men wearing parachute backpacks — walked past.
A pilot named Owl, the night-watch captain, said he's been amused by the arrival of the Sparkle Ponies.
"It's those things," he said, gesturing out to a jet. "It's $2.5 million sitting out there bringing Sparkle Ponies. Last year someone lost their baggage and we opened [it] to find their ID, but all we found were costumes, store-bought stuff, naughty-nurse outfits and things."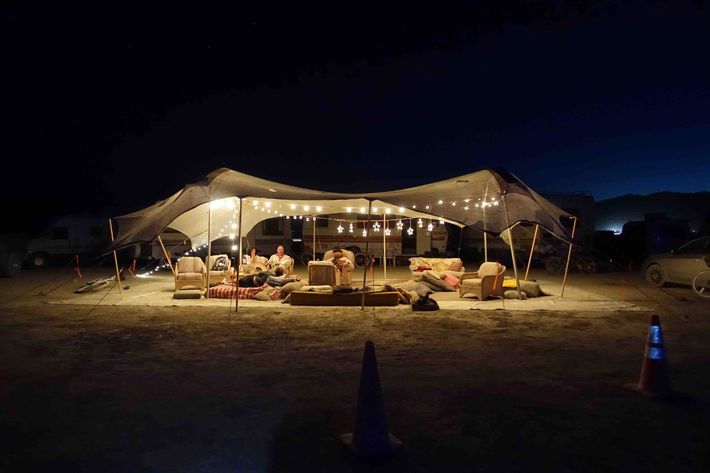 As we ate dinner (sesame beef, teriyaki tofu, squash), a man in a leather vest who wanted to only be identified as Launchpad pulled up next to me.
"We're all pilots. We make our own runways, our own village, our own bar. A mile away you can bike into Burning Man, but it's almost an afterthought. The people like us do all the work to put in the runway, and the people who take advantage are the charter people bringing in the rich — I heard $5,000 a flight," he said, as others nodded. "They come in with their huge planes, jet engines. Black SUVs show up for them, or they have their art cars, their bikes. See that carport out there — we paid for it, $20,000 to $30,000 altogether, all volunteer. The charter pilots take advantage of us."
After we sat a little longer, he reconsidered.
"But I shouldn't complain. You know why? I own a plane," he said. "I'm already one of the lucky spoiled bastards!"
I took my dinner out to their lounge, called the Pea Pod. A group was preparing to go into town and visit the "Thunder Dome," a Burning Man fight club. But most of Airport Camp was settling in for a night in their outpost.
"It's like Afghanistan with LEDs out there," one woman said, describing Burning Man proper.
"Honey, that's mean — it's like a refugee camp," her partner chided.
"What does that say about refugees?" she said.