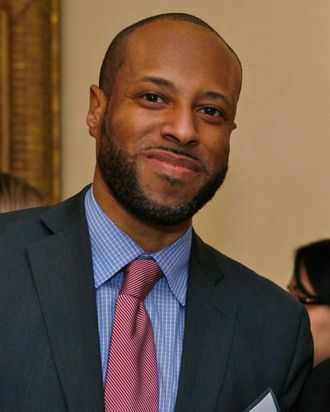 Photo: Office of the Governor
A Cuomo administration lawyer died Wednesday night, a little over a week after being shot in the head the morning before the annual J'Ouvert festival on Labor Day. Carey Gabay's family took him off a respirator after the 43-year-old was declared brain-dead on Tuesday. 
"Carey was the epitome of an outstanding public servant. He held a tremendous commitment to his community, and he chose to use his many talents to better the lives of others," Governor Andrew Cuomo said in a statement about Gabay's death, adding that "the State of New York has lost one of its finest young men." Gabay, who most recently worked in the state's economic development corporation, was an innocent bystander caught in the crossfire of reputed gang violence in Crown Heights before the J'Ouvert festival and parade on September 7. He ducked between cars for cover, but a bullet struck him in the head. He had been in a coma since his passing Wednesday evening. 
Police are still searching for the suspects involved in the shooting, and have offered a $12,500 reward for information about the shooting.