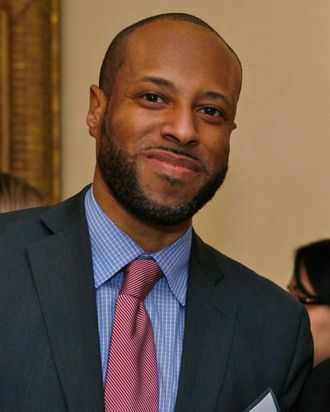 Carey Gabay
Photo: Office of the Governor
An attorney for the Cuomo administration who was shot in the head in the early morning hours before the J'Ouvert festival in Brooklyn has been declared brain-dead, his family and the governor's office confirmed. The 43-year-old Carey Gabay had been in a coma and was in critical condition since the Labor Day shooting. He remains on life support. 
Gabay, a Harvard grad who most recently worked as the first deputy general counsel at Empire State Development Corporation, was caught up in gunfire — reportedly between two rival gangs — before the annual West Indian Day Parade. Gabay was just two blocks from Prospect Park and tried to take cover between cars in a parking lot, but was hit in the top of the head by a bullet. 
The police are still looking for the alleged suspects and have released a sketch of a man supposedly involved, as well as two surveillance videos that reveal two armed gunmen. The NYPD is offering a $12,500 reward for more information that could lead to the arrests of those involved, echoing the pleas of Gabay's family.